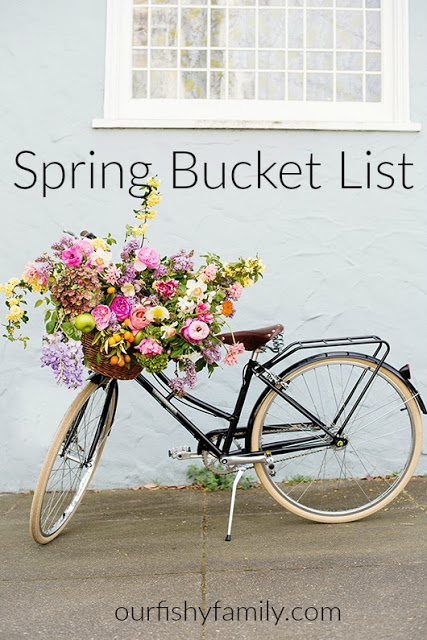 You know I love me a good Bucket List and while I've always done one for Summer, Spring's been left out. Since yesterday was the first official day of Spring, here's some things I hope to do before summertime rolls around.
//Deep clean the entire house//
Open up the windows, tidy each and every area, and get rid of everything we don't need.
//Go on a picnic//
A spring must before the temperatures get too hot.
//Dye Easter Eggs//
After seeing
this
tutorial using silk ties, I can't wait try it out.
//Get a pedicure//
Is it sad I have to schedule this one on a bucket list? My toes are looking rough and with sandal season coming I need one badly.
//Stock up on flip flops//
Since my feet will be all pretty, I'll need some new flip flops to wear. For some reason, I don't have any of those cheap Old Navy ones left. They're perfect for when you need to slip on something quickly.
//Fly a kite//
The boys got kites a few years ago and they've just been sitting in the closet so it's time to break them out. Now if only we can keep them in the air.
//Go Berry Picking//
This was on our
Summer Bucket List
last year but by the time we went, berry picking season was almost over. I'm planning on going earlier this year to get even more delicious fruit.
//Make a bird feeder//
Ben is obsessed with the all the different kinds of birds that land on our deck so we might as well feed them while we're looking at them.
//Spruce up the yard//
Weed pulling, mulch, flower planting, etc. It's amazing the difference fresh mulch can make.
//Attend an Easter Egg Hunt//
Other than the one at our house 🙂
//DIY Garden Box//
We do a small "garden" every year on our patio (tomatoes, peppers, flowers) but due to a very strict HOA and a ton of deer and rabbits, a full on vegetable garden won't work for us. I've seen a few box garden DIY's on Pinterest and I'm thinking that may be a good option.
//Spring Break Shenanigans//
We're going to St. Louis for a few days and while we've been several times before there's always new things to try out.
//Get professional family photos taken//
It's been way too long since we've had professional photos of the 4 of us.
//Make homemade strawberry shortcake//
Maybe using some of our freshly picked strawberries.
//Attend a baseball game//
Ben's attended a few games, but Jack's never been (2nd child probs). This is definitely a spring activity because sitting in the sweltering heat watching sports is not my idea of fun.
//Go on a nature scavenger hunt//
Exercise for me, fun activity for the kids. Win win.
//Trip to the zoo//
I'm not sure any zoo will ever compare to our trip to
Tanganyika Wildlife Park
so I'm trying to keep my expectations in check.
Do you make a Spring Bucket List? What would be on yours?
SaveSave