I'm bringing back this festive treat from the archives since so many of you loved it last year. Enjoy!
Are you stressing because Halloween's in just a few days and you don't have anything for your child's school or that costume party you got invited to? These "handy" snacks are just the thing that will make it seem like you totally have your life together without actually having to have your life together. And don't we all need that. Bonus? No cooking, baking, or refrigeration required which is always a plus during busy times.

What You Need:
Latex free plastic gloves (I got mine from Walmart)
Popcorn (You can pop your own or use Smart Pop or even Pirate's Booty)
Candy Corn
Twine or Ribbon
Plastic Halloween Rings
What To Do:
1. Place a candy corn point down in each finger hole of the glove.
2. Fill the glove with 2 handfuls of popcorn then shake it so the popcorn falls down the finger holes.
3. Fill the rest of the glove with popcorn leaving enough free space to tie the glove shut.
4. Tie the glove opening with baker's twine.
5. Place the ring on one of the fingers (I cut the ring on the back to make it easier to put on the glove. If these are for kids, they will still be able to wear them)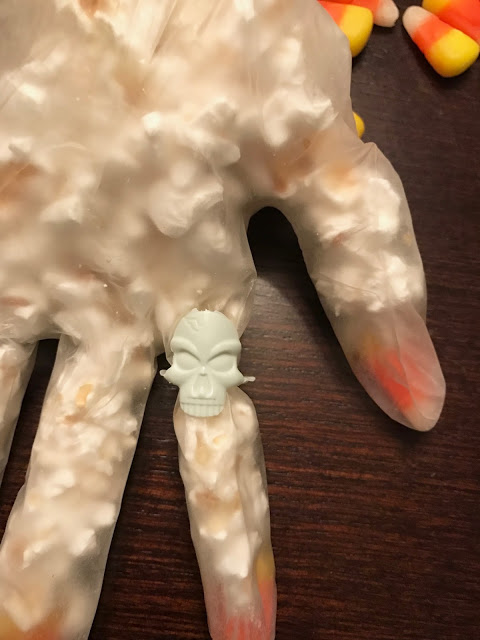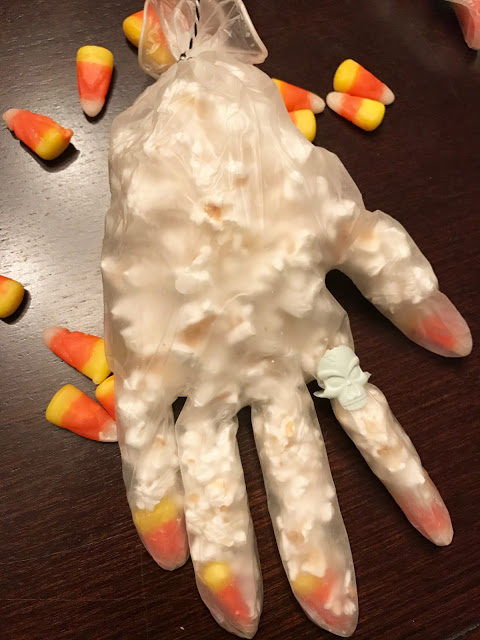 Now turn on Hocus Pocus, grab a glass of wine, and get to work.