Happy Friday!! I'm looking forward to a warm and busy weekend. Here are my 5 favorite things for this week's 5 on Friday!
One.
April is Autism Awareness Month and Tuesday was World Autism Awareness Day.  I don't talk about my job a lot but I'm a BCBA (Board Certified Behavior Analyst) and work with children and young adults at an autism center. Over the years I have met some of the best families and worked with the greatest people, including these ladies and our adorable therapy dog, Rhett.

Two.
A few weeks ago Maple Holistics reached out and offered to send me some products to try out. Their Bubblebath with Lavender was hands down the best I've ever used and the SMELL! You guys, the smell of lavender filled the entire bathroom without being overpowering and one little squirt created all these bubbles.
The best part about Maple Holistics is that all of their products are made with natural ingredients and PETA-certified cruelty-free. In addition to their bubblebath, they have a wide range of other beauty and hair products including this Silk18 Conditioner to help with damaged, frizzy hair.
Three.
I can't stop buying all the swimsuits Stephanie posted about and have already bought this one shoulder suit. This one has been out of stock FOREVER but was finally re-stocked this week. I love that it has a plunging v that stays in place, a tummy control waist, and it's NAVY! I'll show you what it looks like on once it comes in the mail.
Four.
If you're a Reese's fan and you haven't tried the new Reese's Pieces eggs, stop what you're doing right now and run to the store.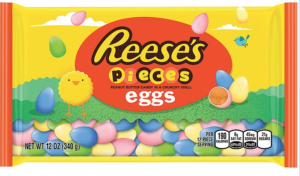 Five.
I'm obsessed with spring cleaning and just printed off this free Spring Cleaning Bingo Card from The Okayest Moms. I plan to tackle some things this weekend and I wonder if I'll get a bingo? 🙂 Who wants to play with me?
Have a wonderful weekend!