Guess who's back, back again. The flu is no joke you guys. Everyone except my 10 year old was hit hard with Influenza A last week so this week I've been playing catch-up with all the things. It's been awhile since I've done a 5 on Friday and I've got some fun things to share this week.
One.
Has anyone tried this cleaner from Target? It seems like everyone is raving about the Citrus Grove scent and how it smells just like Anthropologie's volcano candle. It's only $1.59 for a huge 32 oz bottle so I think I may need to stock up.
Two.
The boys reeeallly want a dog but to be honest, I'm just not ready for all the work that comes with owning a pet. I picked up this Yorkie sweater from Loft last weekend and it's the closest thing to a dog as we're gonna get 🙂
Three.
Despite only having a tad bit of Irish heritage, we are more than ready for St. Patrick's day. A couple of weekends ago I made this super simple shamrock to hang on our front door. All you need is the shamrock shape, craft moss, hot glue, and a wood letter spray painted gold. My husband cut the shamrock shape out of scrap MDF, but you can also find cardboard and wood ones at a craft store. I gave the shamrock a quick coat of green paint then got to gluing. There is no right or wrong way to glue on the moss, but I found doing small sections starting in the middle and then working my way out seemed to work best. If you're going to hang it, use hot glue to attach a piece of ribbon on the back.
Four.
Spring break starts one week from today and we're headed to the Great Wolf Lodge for a few days. If you've stayed at one before, I'd love to know your thoughts. It seems like there are a ton of activities besides the water park. Is there anything we need to make sure we do or something we'll definitely want to skip? The boys are dying to do the MagiQuest and get a wand.
Five.
In case you missed it, I posted the best spring earrings for under $15 and so many of them are on sale even more. I may need to add a few more pairs to my collection.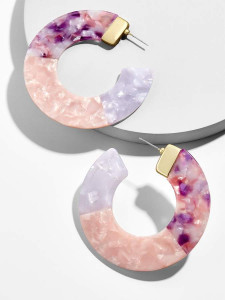 Have a wonderful weekend!