Disney's Hollywood Studios is home to some of the parks biggest thrill rides and newest attractions. Pre-pandemic, Hollywood Studios also housed many well-known shows including Indiana Jones, Beauty and the Beast, and Fantasmic, all of which are still closed (as of May 2021).
While this park continues to be one of my favorites, the lack of available shows means more people in line for rides making this park seem a little more crowded than others although capacity is still limited. This was our first time visiting Disney during spring break and our first time going to a park on our arrival day which meant we had 1 1/2 days to explore Hollywood Studios. If you're visiting HS in 2021, here's what you need to ride, eat, and experience.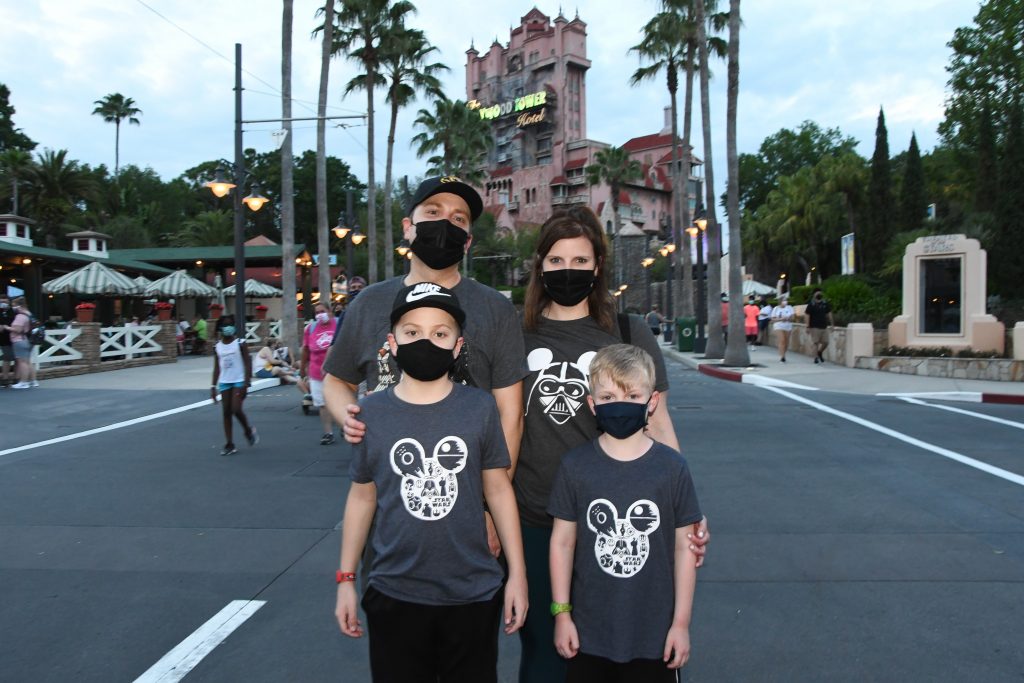 Rides/Lands:
Let's just get it out of the way since we all know that Star Wars: Galaxy's Edge is going to make the list! The land itself is stunning even if you're not a big Star Wars fan or haven't seen a single movie. I recommend checking it out both in the daytime and at night.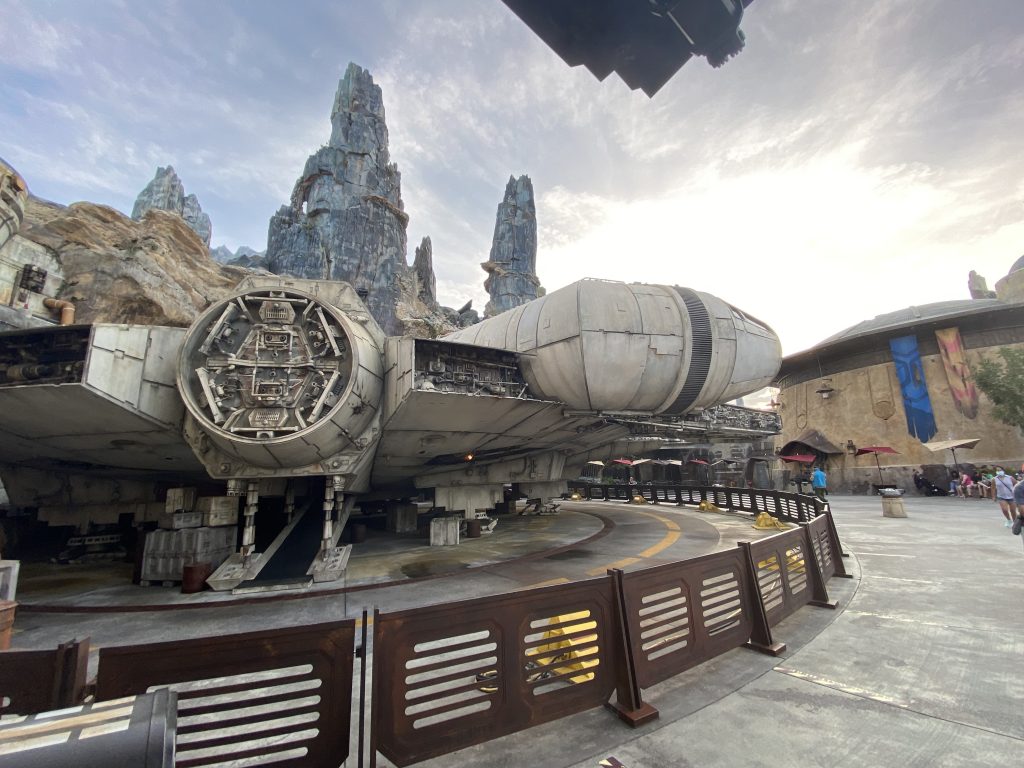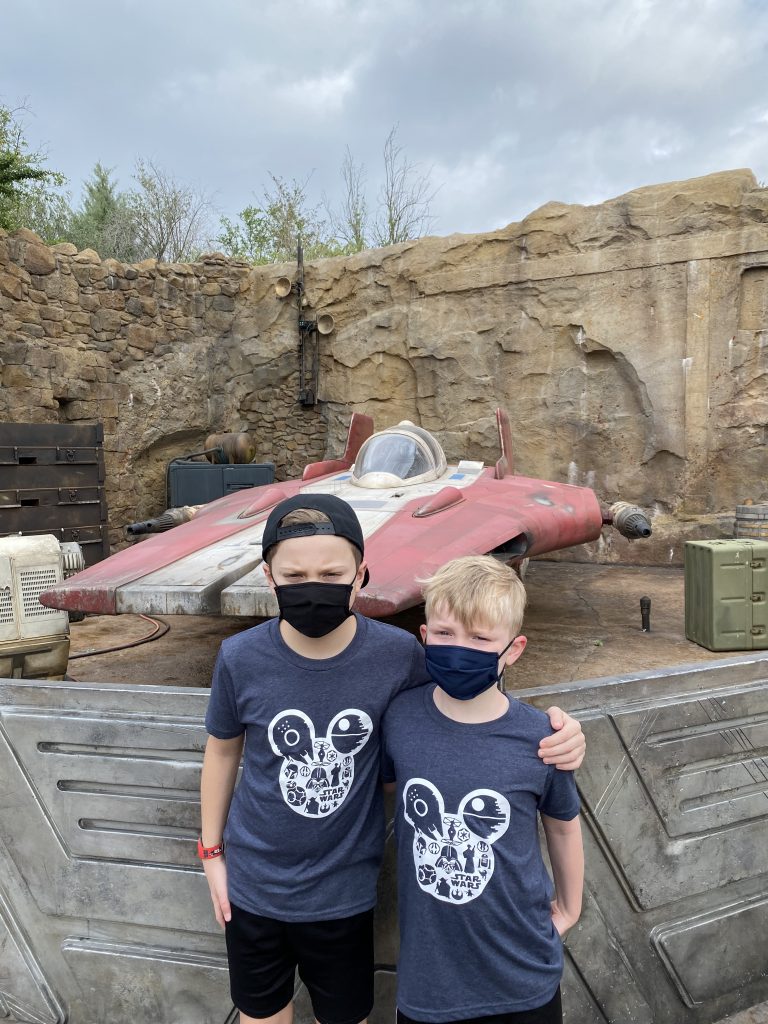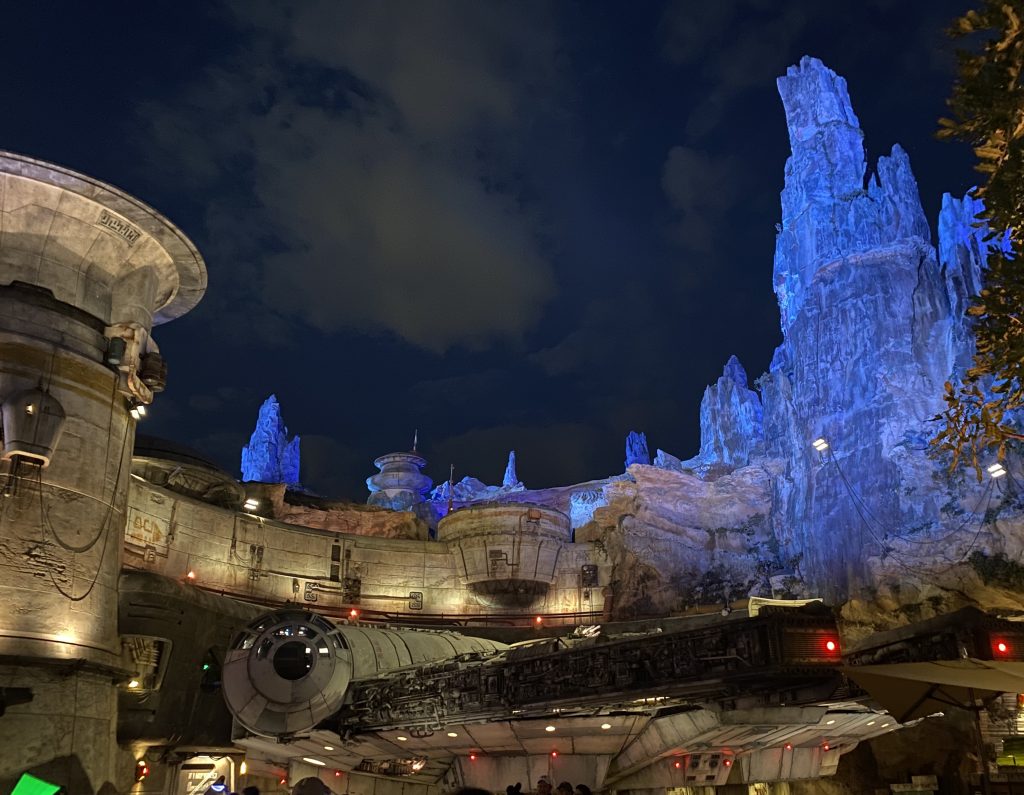 Galaxy's Edge has two rides, Smugglers Run and Rise of the Resistance. Don't get me wrong, I liked Smugglers Run, but felt it was a little over-hyped. The boys absolutely loved it but didn't love the long wait time. The estimated wait time was 30 minutes and we ended up waiting closer to an hour and it felt every bit of that hour. Due to limited capacity and the need for room for social distancing, Disney is not currently offering Fast Passes. This means sometimes ride wait times are not quite exact but in most cases, we found the posted time to be shorter than our actual wait time, except for Smugglers.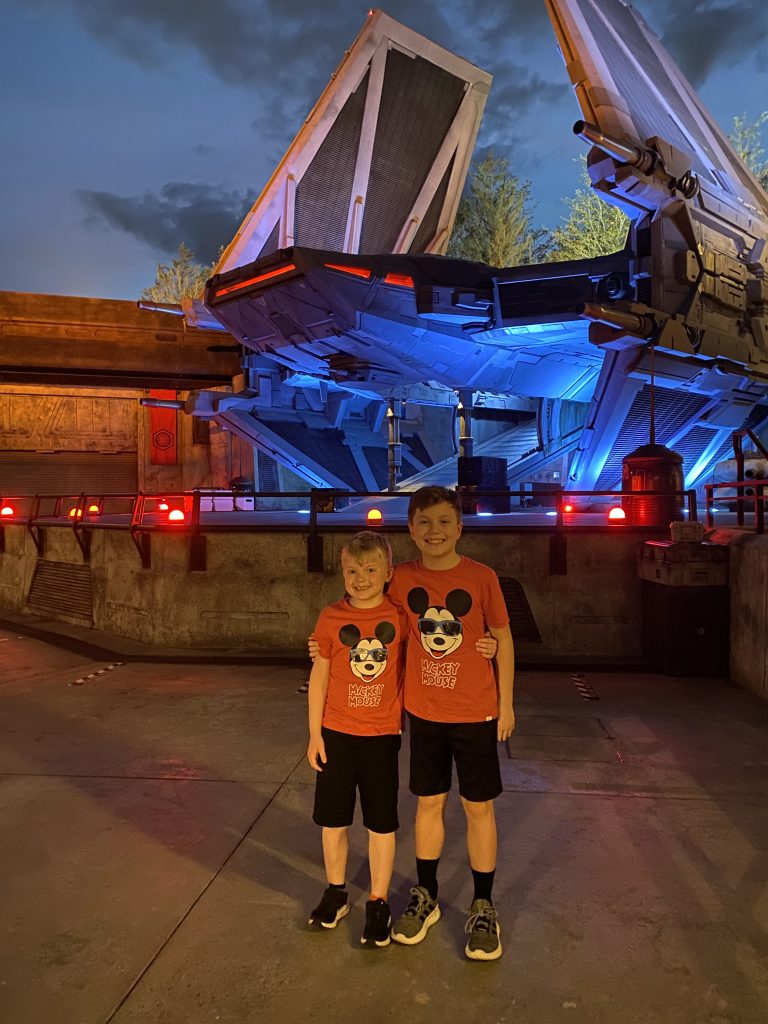 Rise of the Resistance was just as amazing as everyone said. ROR is unique in that you can't just hop in line when you want to ride. Instead, ROR utilizes "boarding groups" using an online queue system that you can only join at specific times (7am & 1pm). Unfortunately, if you don't get a spot at one of those times, you don't get to ride. I woke up at 6:55am to secure a Boarding Group and managed to get group 18. We rushed to get ready and head to the park since group 18 is usually called fairly soon after park opening. Once we arrived at the park we found out ROR was closed due to technical issues. Cast members couldn't say exactly how long it would take to get it working but it was up and running within the hour and our group was called about an hour after that. How fast or slow boarding groups are called depends on a lot of factors so just keep checking the Disney App if you're one of the first groups. Once your group is called, you have a 1 hour window to return to the ride. And don't be upset if you don't snag a pass at 7am as more slots open up at 1:00pm although your entire party has to be physically inside the park when trying to snag the 1pm passes. I used this website for helpful tips on snagging a boarding group.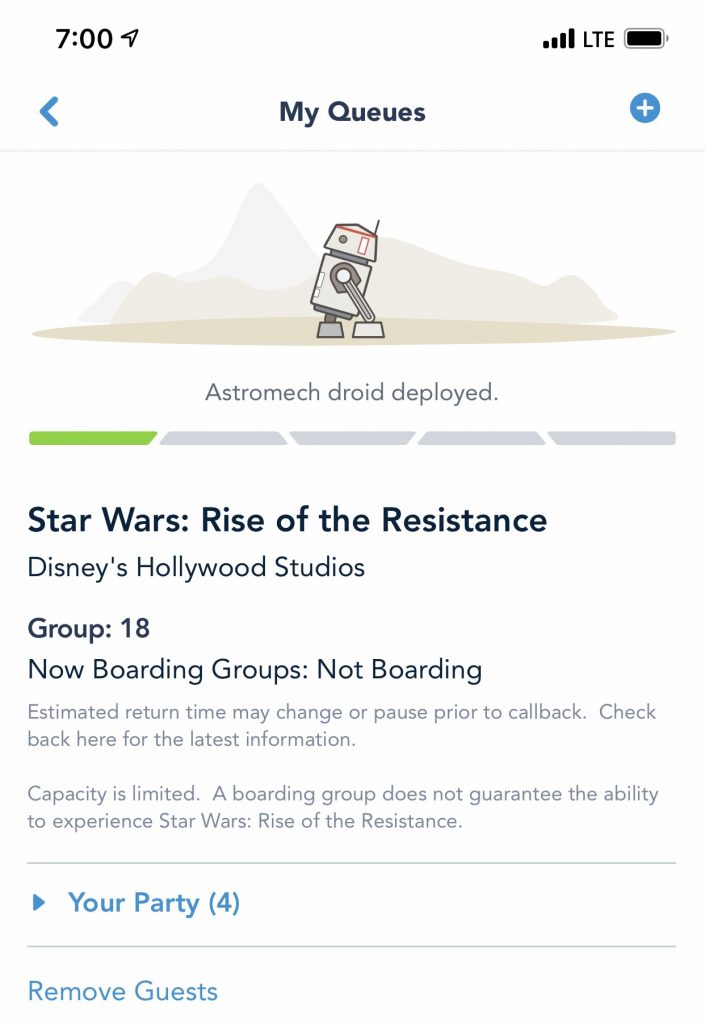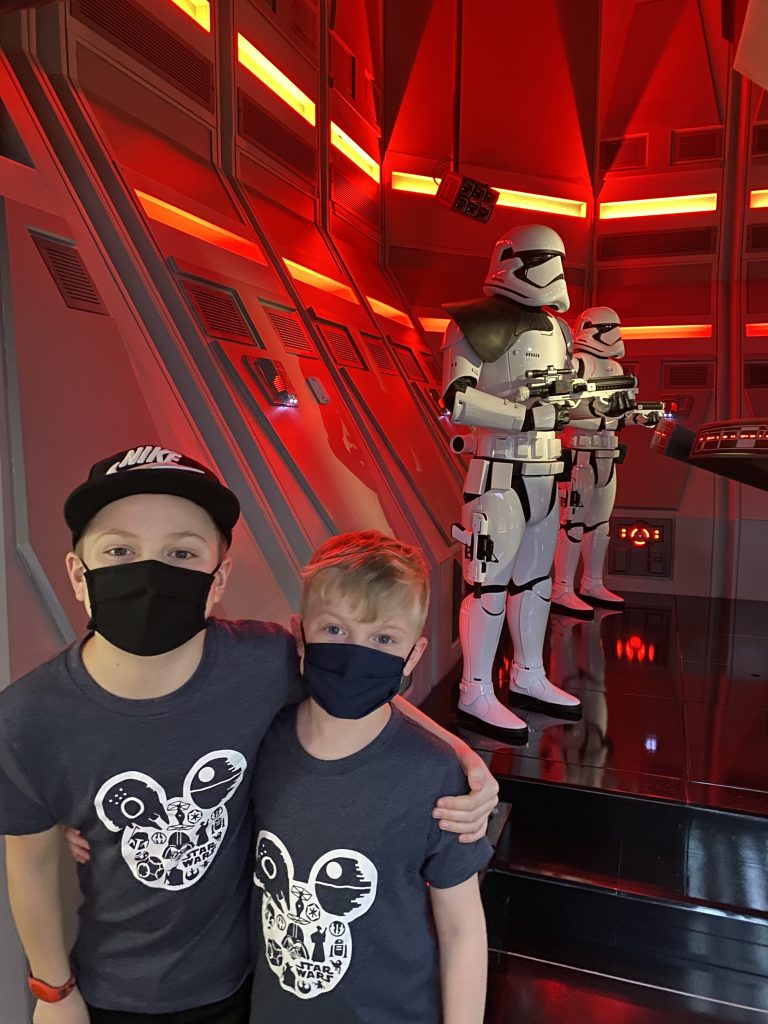 A close second to Galaxy's Edge is Toy Story Land. The classic movie characters and references along with all the bright colors makes for such a fun space. Toy Story Mania has always been one of our favorites and with the addition of Slinky Dog Dash and Alien Swirling Saucers, the wait time for Toy Story Mania was way less than it had been in prior to the new ride additions. Slinky Dog Dash was one of the rides I was most excited about and it was even better than I expected. The wait for this one was long (60-90 minutes) pretty much all day so we hopped in line just before closing and waited about 40 minutes.
Secret Tip: As long as you're in the line at park closing time, Disney allows guests to ride. Take advantage of this for rides with long wait times so you're not spending precious time during the day waiting.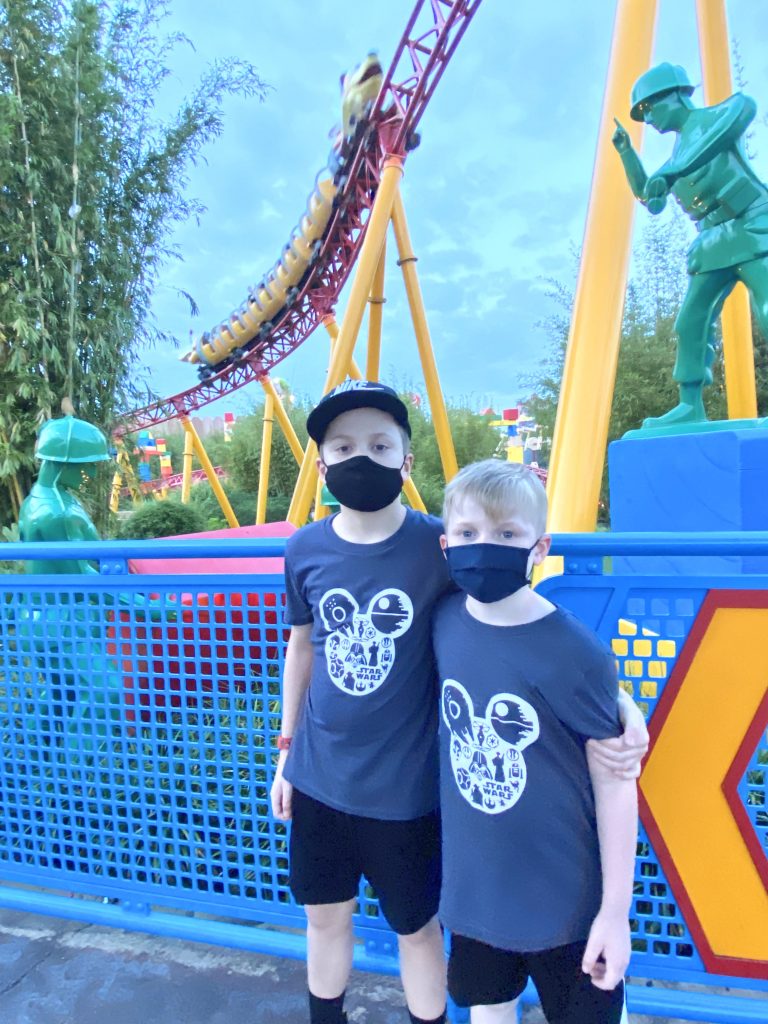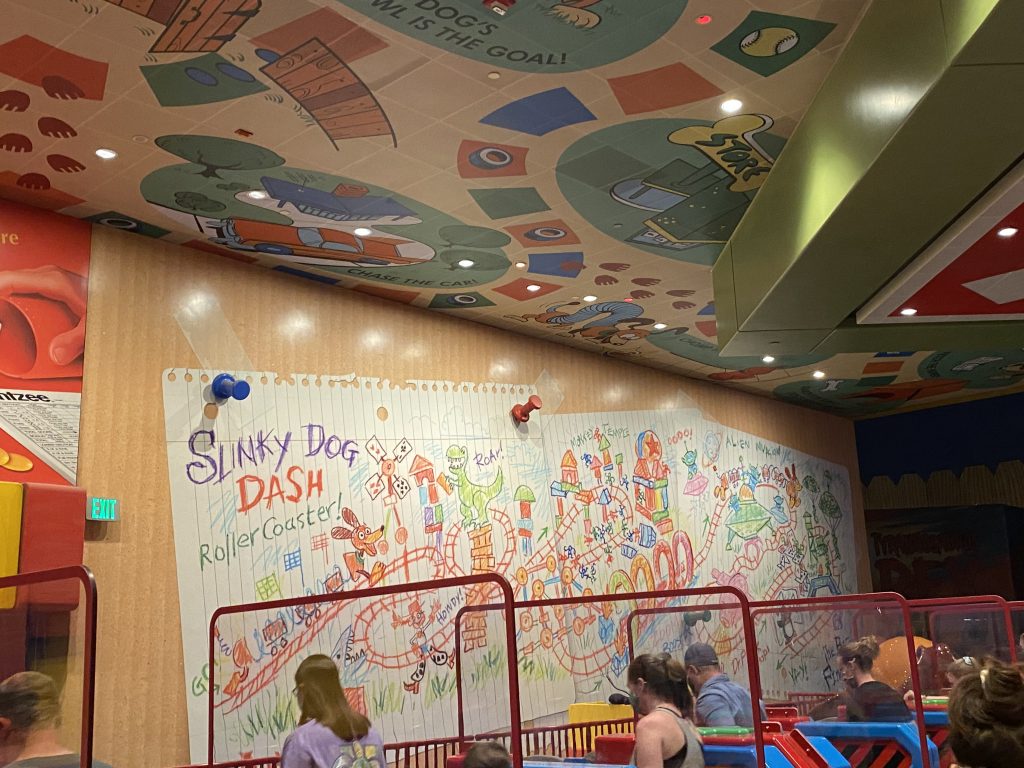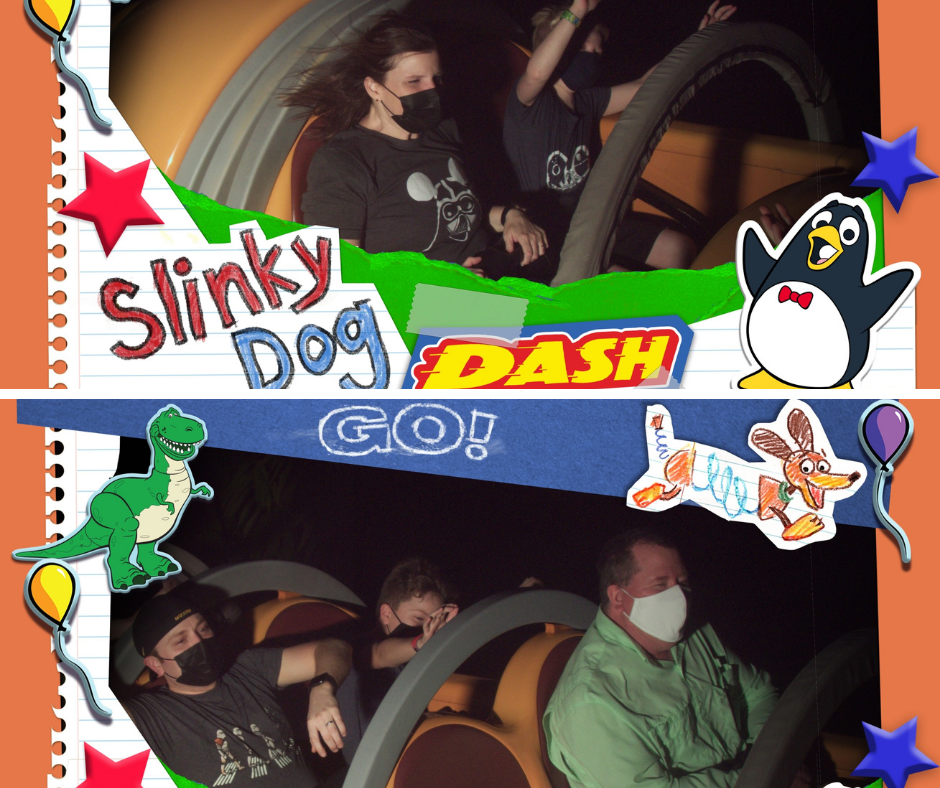 Another must do ride is Mickey and Minnie's Runaway Railway. This ride debuted in 2020 right before Disney shut down. It replaced the Great Movie Ride and while the GMR was a classic, Runaway Railway is a spectacular replacement and the illustrations and art are stunning.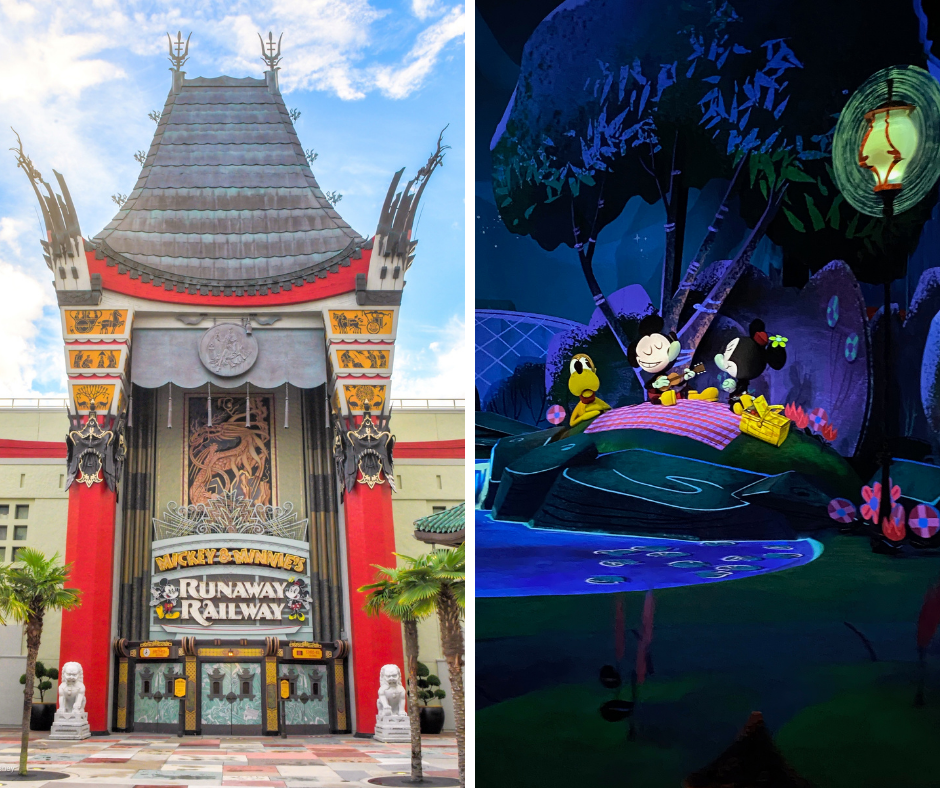 No trip to Hollywood Studios is complete without a ride on the Tower of Terror. This was one of the rides where the wait time on the My Disney App was accurate and the line felt long.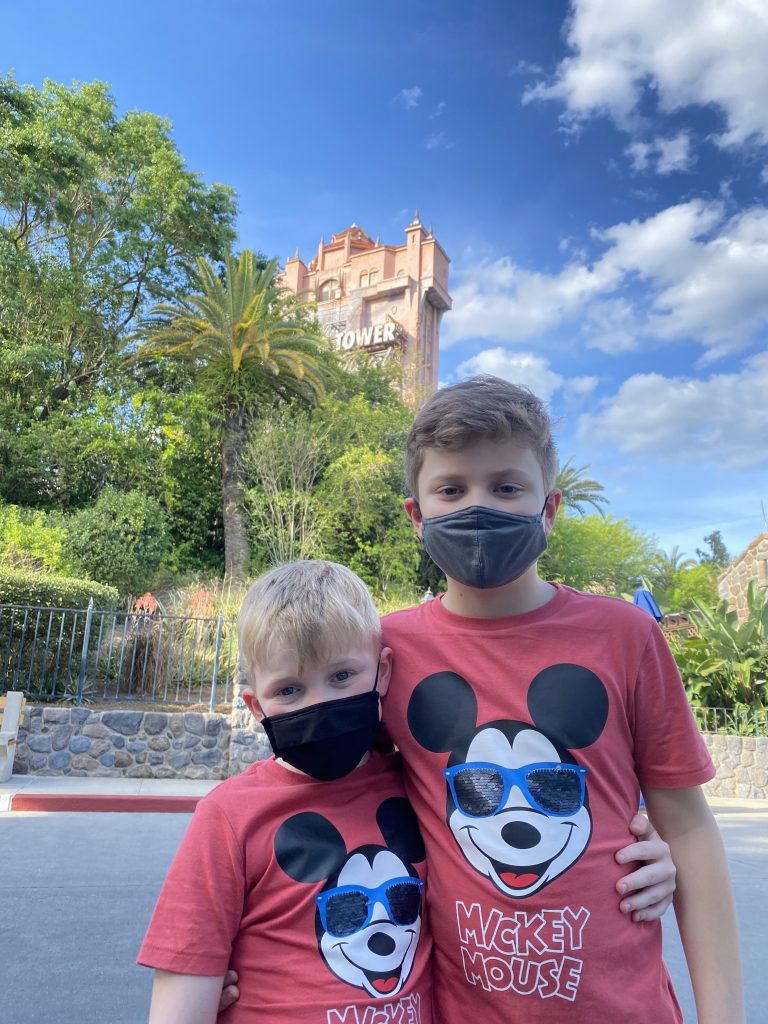 I saved our family's favorite ride for last…Rockin Roller Coaster. This ride is a true coaster and set to Aerosmith music. Did I mention it's completely in the dark?
Secret Tip: Look at the band posters when you get into the building. The names and location change to display a guest name and the town they live in. Mine came up two separate times.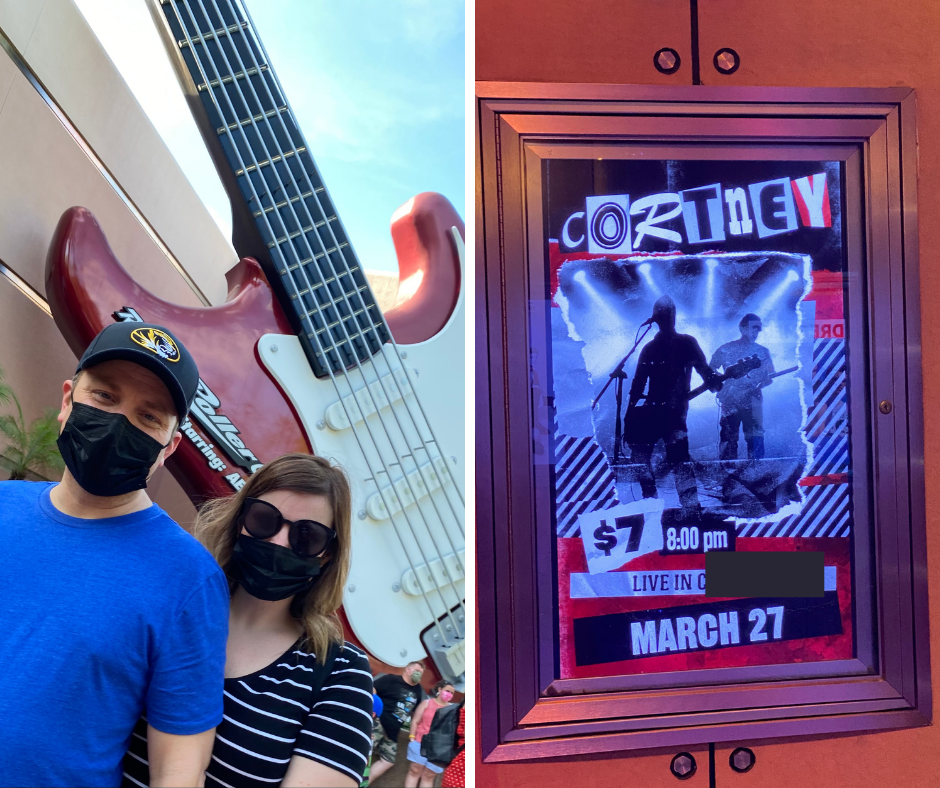 J and I rode this on our last trip to Disney while the boys went back to the hotel with my MIL since they were too little. This was Jack's first ever upside down roller coaster and this photo cracks me up every time I look at it. His face is priceless.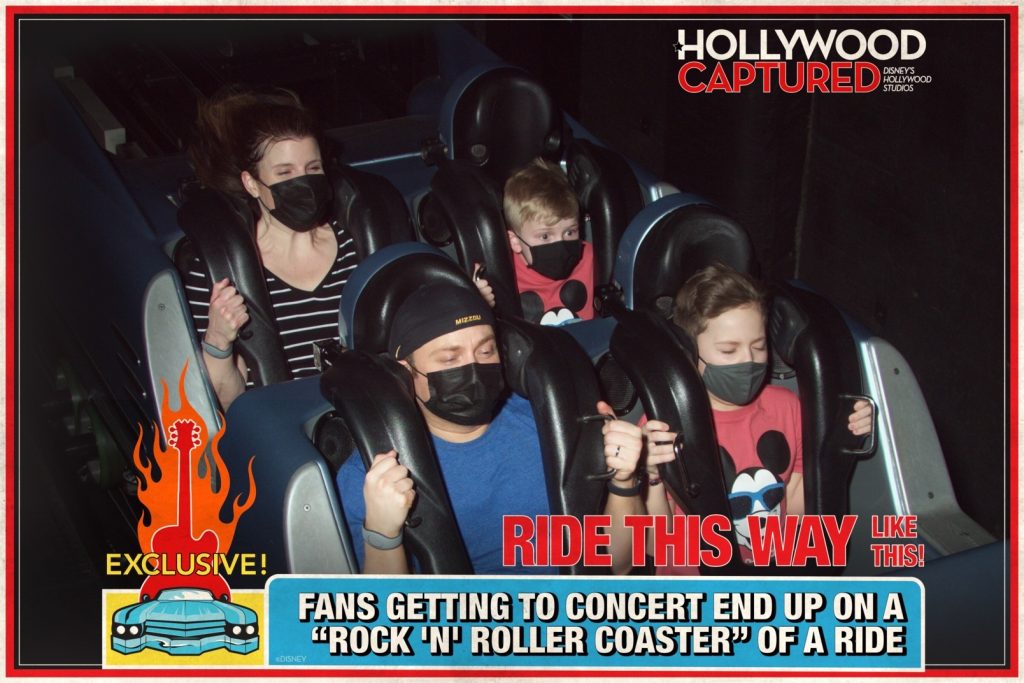 Eats & Drinks
Onto the food! Hollywood Studios has a good amount of table service restaurants and several options for quick service. Most quick service meals must be ordered on the Disney App and picked up during a specified window. Character dining is still limited at all the parks and the only character dining option when we went was Hollywood and Vine. We opted to skip a character meal at HS and instead tried several new and new to us restaurants, including Oga's Cantina. We snagged at late reservation (8:40pm) even though the park itself closed at 8:00pm. Using the Disney App, you can check into your reservation 20 minutes before your reservation time and if a table is available you'll be seated early.
Secret Tip: It's super common that in-park restaurants have reservations available after the park closes. No need to worry about getting locked in or missing a bus back to the hotel – the parks stay open and buses run several hours past closing time. And in the off chance you are the very last one in the park, cast members will make sure you get out safely and have transportation arranged. This is also a great time to take pictures in a nearly empty park and cast members don't mind one bit!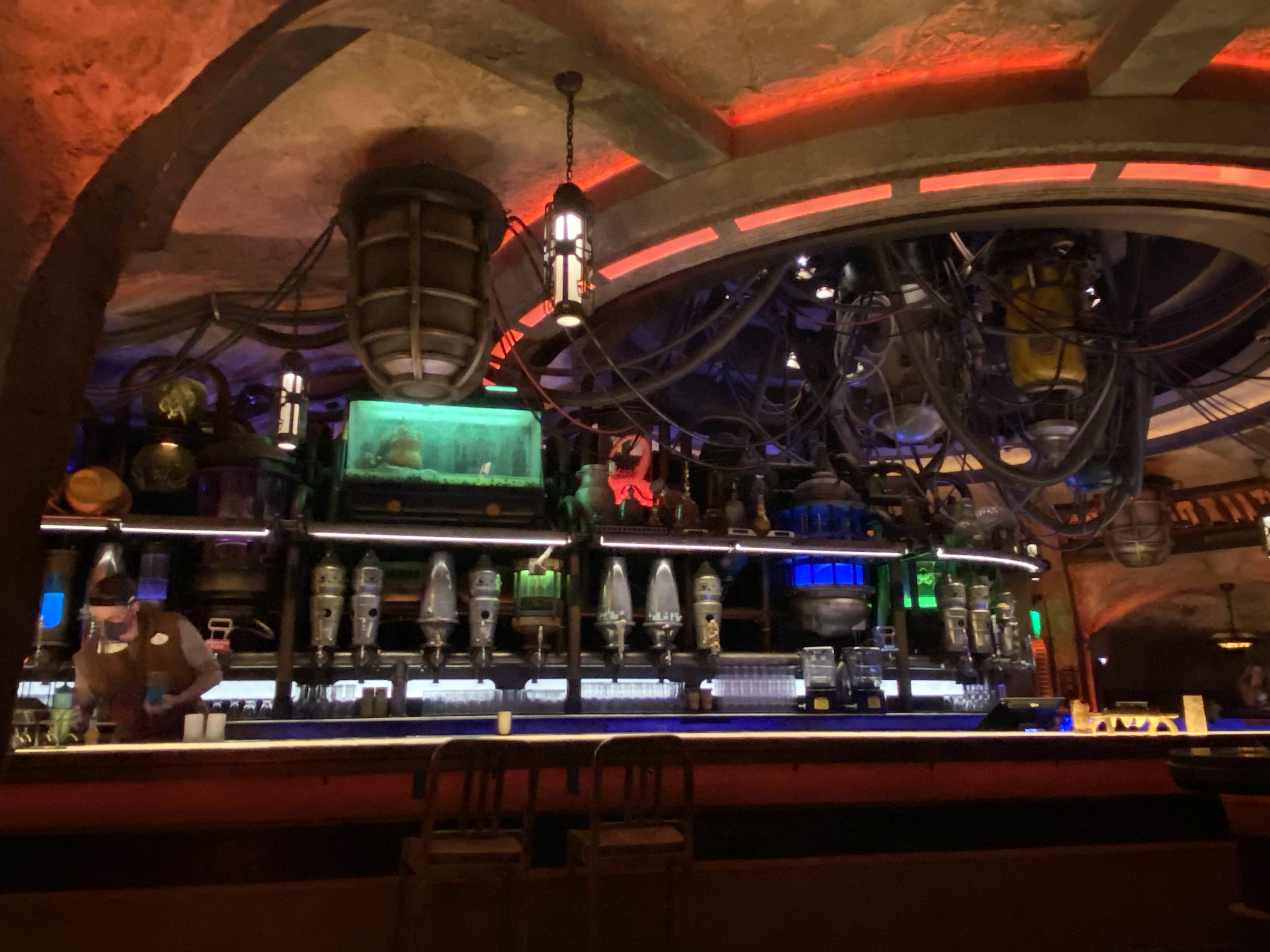 Oga's Cantina is known for it's fun drink concoctions, both with and without alcohol. The boys both got the Carbon Freeze (far left) which consisted of lemon-lime Powerade, wild strawberry, blueberry, and green apple popping pearls. The dry ice made the drinks bubble and they thought it was SO cool. My reddish drink was the Bespin Fiz and was made up of Bacardí Superior Rum, yuzu purée, pomegranate juice, white cranberry juice, and a cloud swirl. J's drink on the far right was their famous Fuzzy Tauntaun which was Cîroc Peach Vodka, Bols Peach Schnapps, Simply® Orange with Tangerine, pure cane sugar, and "Buzz Button Tingling" Foam which made your lips a little numb.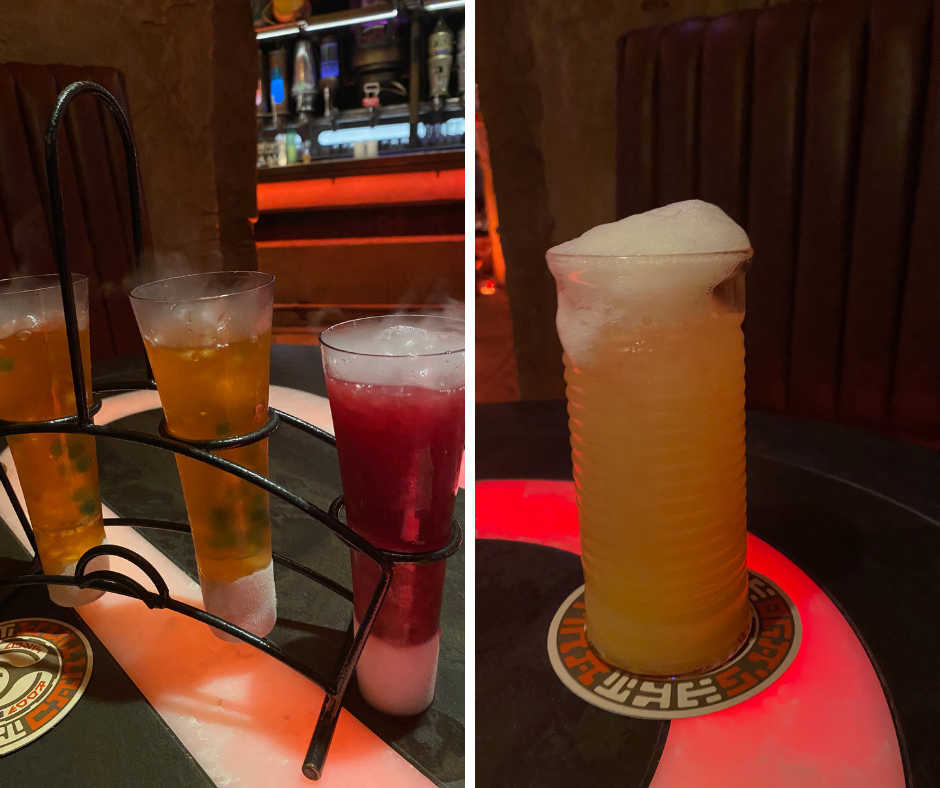 One important thing to note about Oga's is that you won't find a full meal here. In fact, there's only 2 food items on the menu. We tried them both and I'd only recommend them if you're more of an adventurous eater. The boys tried a few bites of each, but we knew before coming that we'd order pizza back at the hotel. The first dish we tried was the Happabore Sampler which consisted of cured and roasted meats, cheese, and pork cracklings.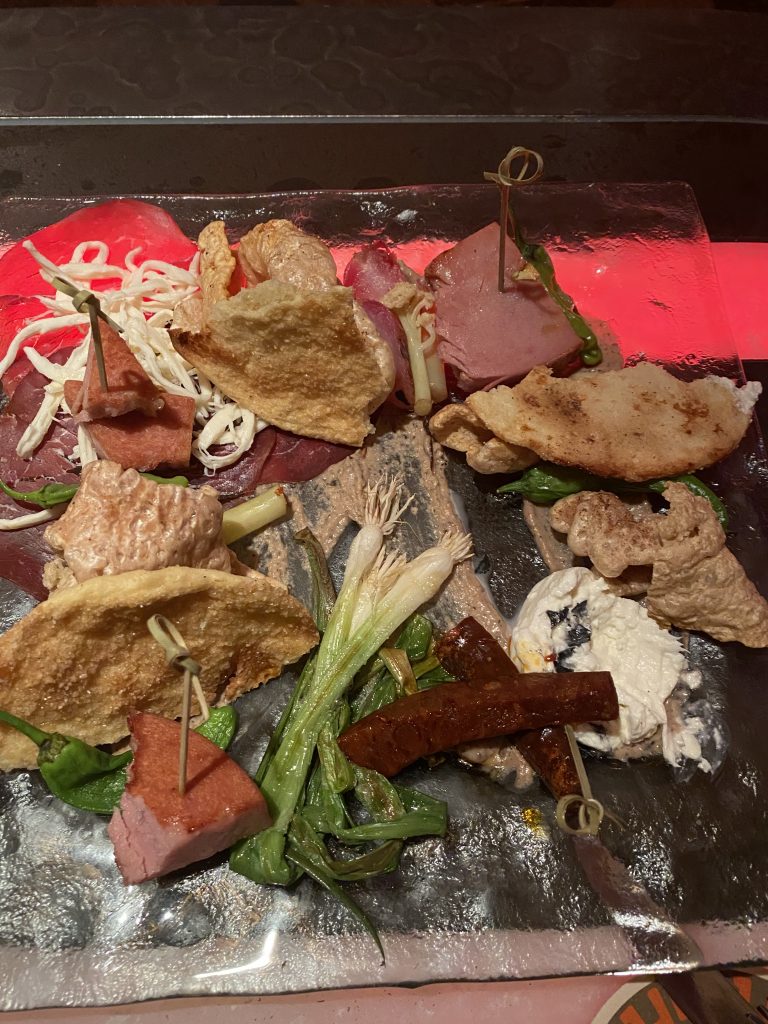 The other dish was Batuu Bits which the menu described as "Crispy Galaxy Snack Bits with Spiced Chermoula Dip." When I googled, 'What's in chermoula dip?' I got a wide variety of answers so I'm not exactly sure what was in this. It was fairly tasty and I preferred this dish more than the sampler.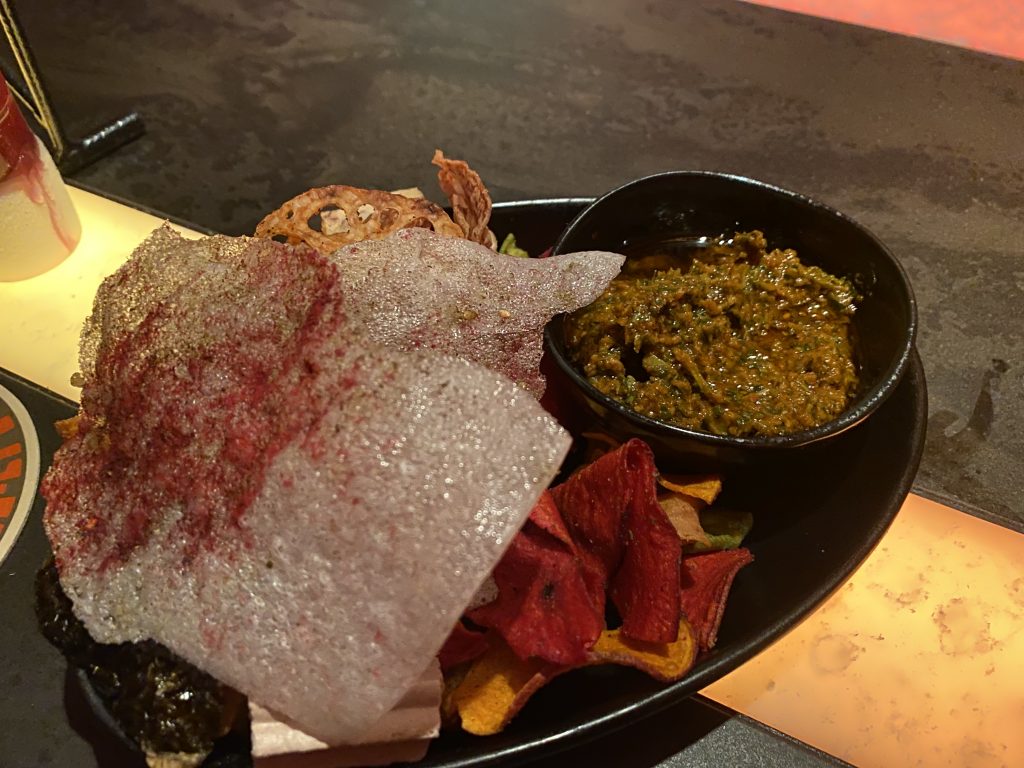 Also located in Galaxy's Edge is Ronto Roasters and the Milk Stand. Since Rise of the Resistance was down when we arrived, we grabbed some Ronto Morning Wraps, pitas filled with eggs, grilled pork sausage, shredded cheddar, and peppercorn sauce.
Secret Tip: If the tables inside Ronto Roasters are full or if you want to eat in a less crowded area, head just outside the restaurant and you'll find a secret outdoor sitting area where a cast member will let you eat.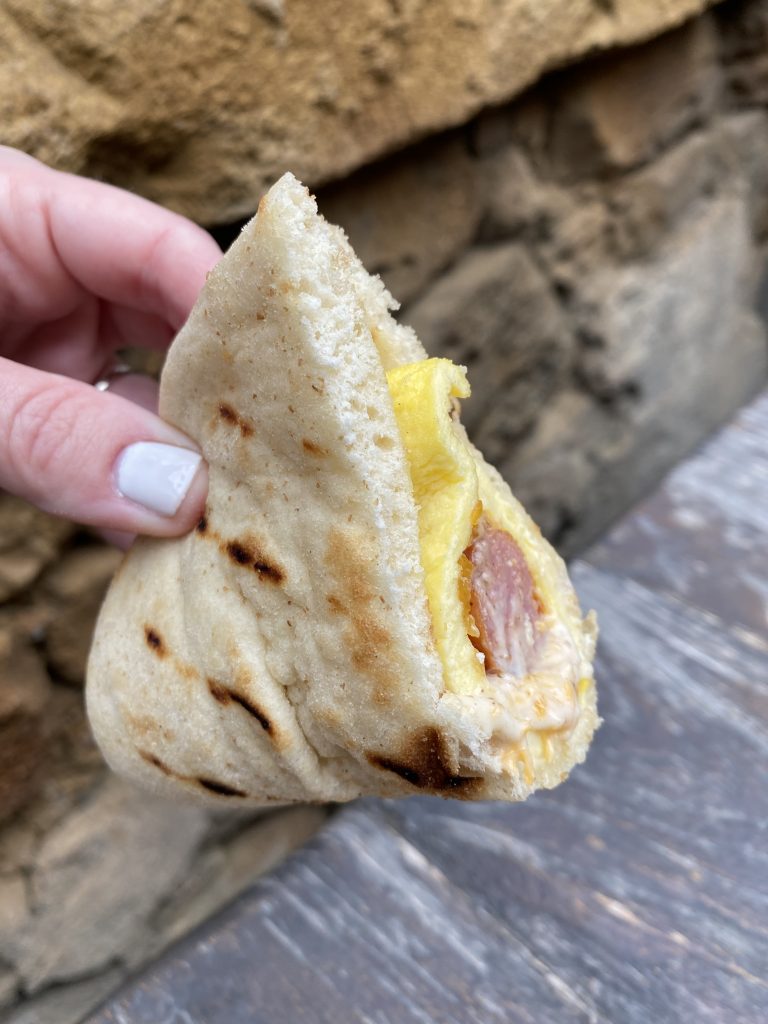 No trip to Galaxy's Edge is complete without a trip to the Milk Stand. After reading reviews of the green milk, we decided to try the blue which is described as "a plant-based blend of coconut and rice milk with alluring fruity characteristics." Ben, J, and I liked it while Jack wasn't a big fan. It reminded me of a really thin yogurt smoothy and it wasn't overly sweet.
For dinner we traveled back in time to the 50's Prime Time Cafe. The retro restaurant decor is super authentic and the waiters/waitresses make you feel right at home.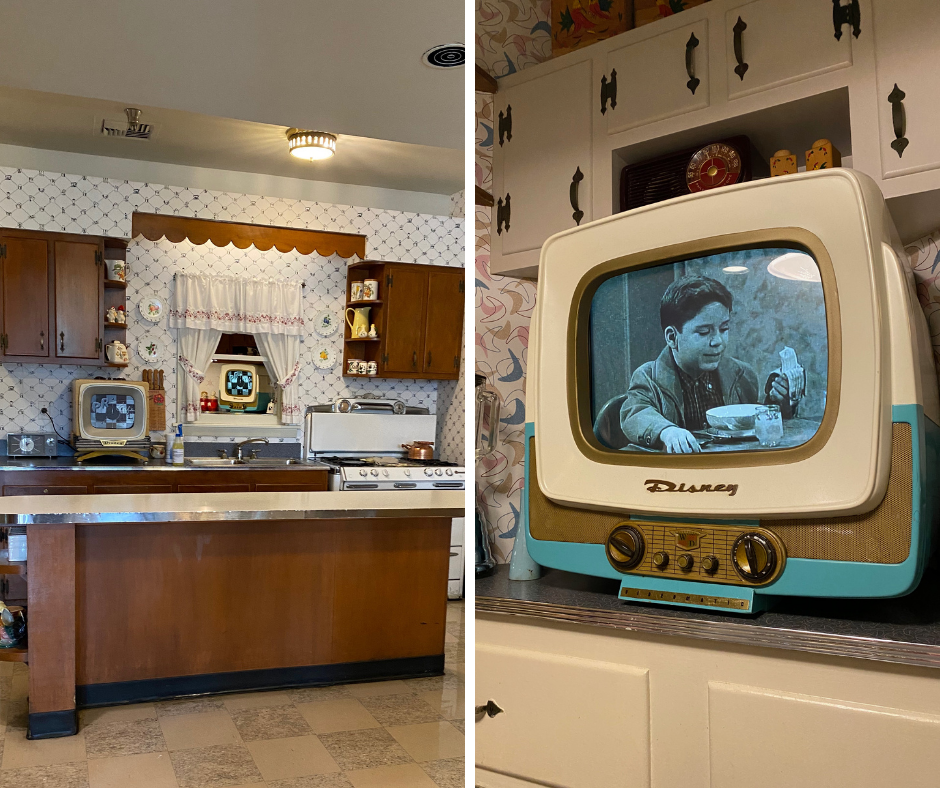 The food is typical diner food and was delicious! J and I got Mom's Favorite Recipes which was a sample of all the main dishes.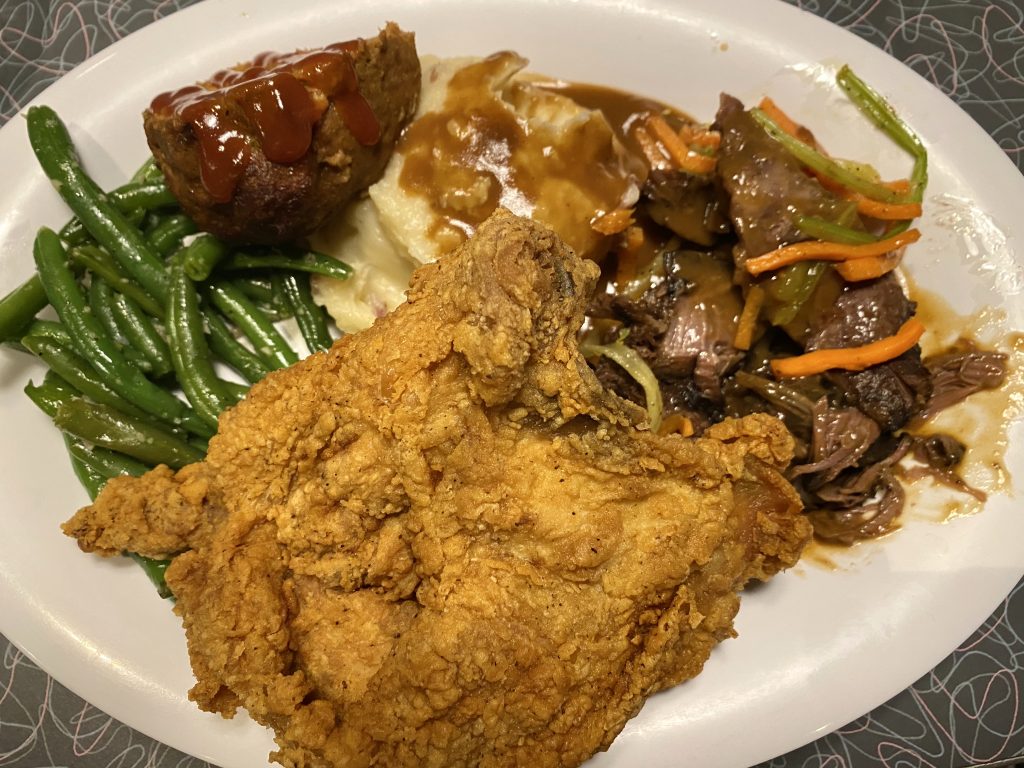 Make sure you save room for the diner's famous PB&J shake and the boys' strawberry milkshake was also really good. All the shakes are big enough to share to plan to split them.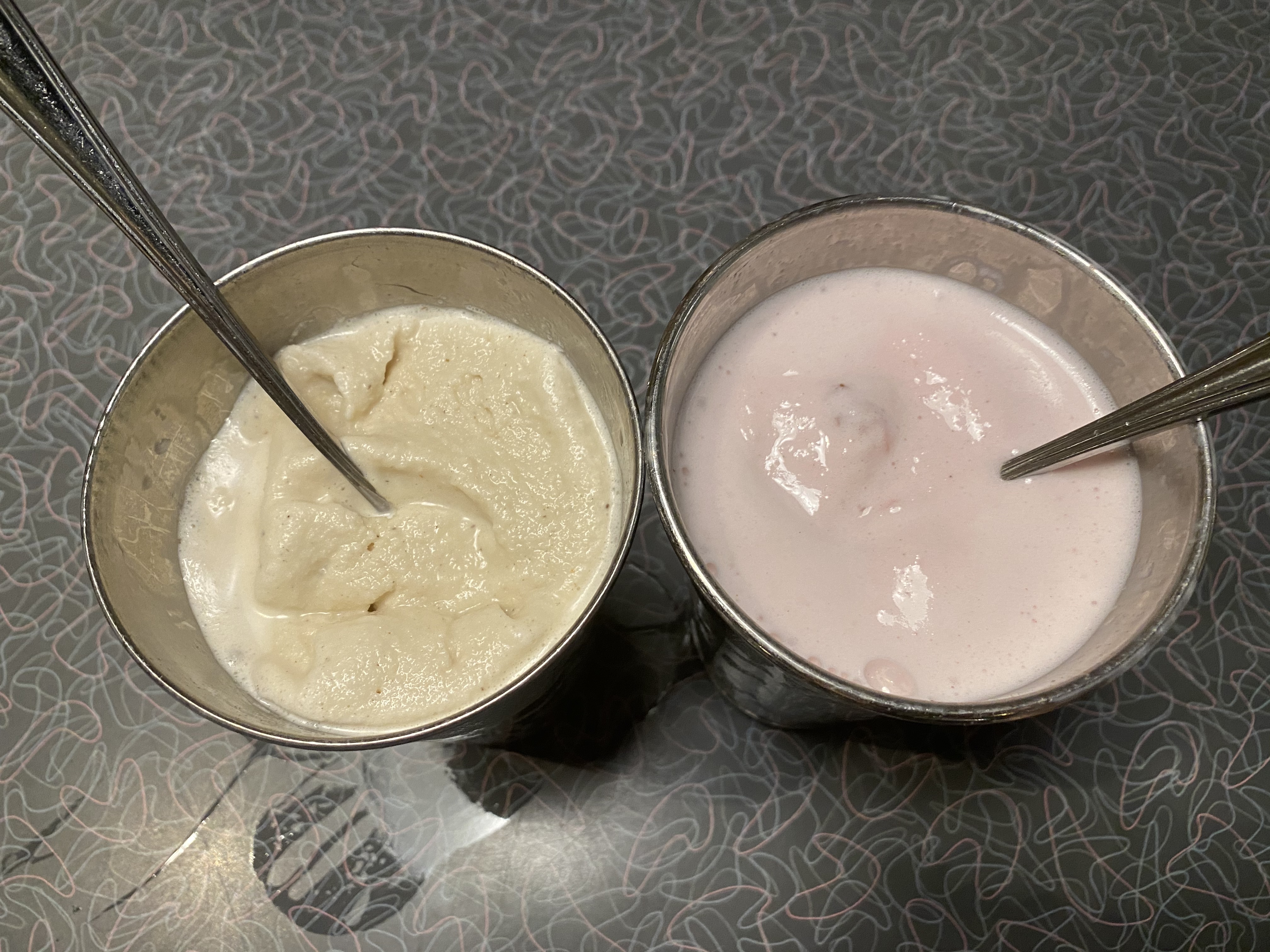 For snacks we tried both the Lemon Blueberry Tart from Woody's Lunch Box and a Wookie Cookie from Backlot Express which was like a giant Little Debbie Oatmeal Creme Pie. Despite lots of Disney sites raving about the tart, it was our least favorite food of the trip and we didn't finish it.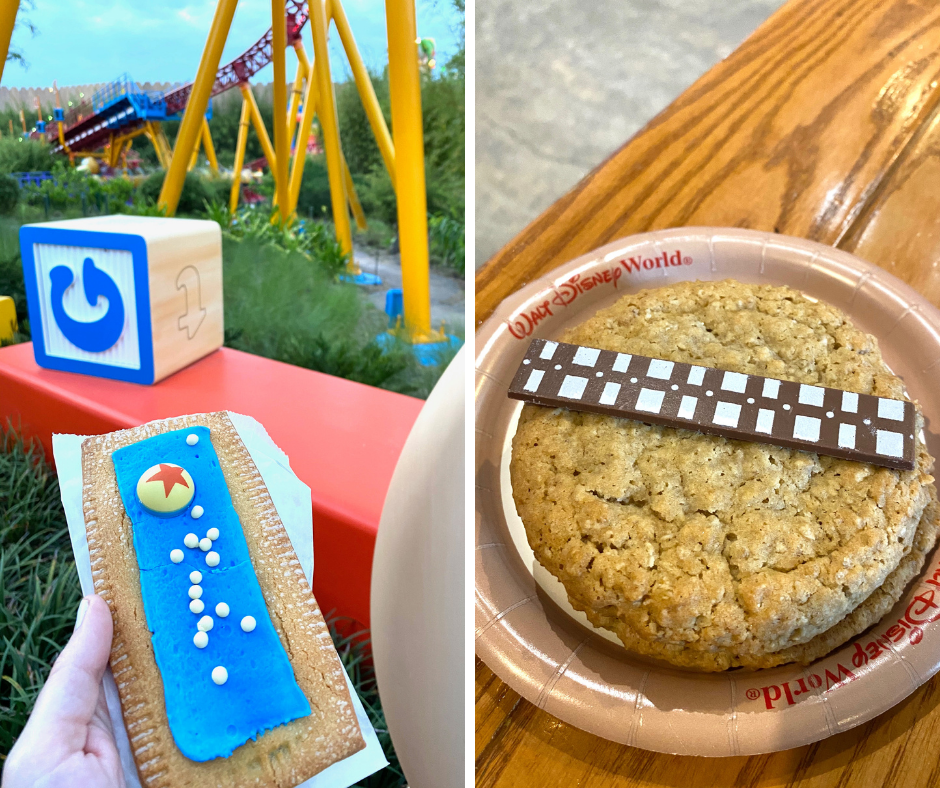 Experiences
Ever since the boys found out we were going to Disney they've talked about building their own lightsaber at Savi's Workshop. At $200 per person, this experience is not cheap but in true Disney fashion, the experience was top notch and well worth it in our opinion. Each person building a saber gets to choose the various components and the crystal which determines which color the lightsaber will be.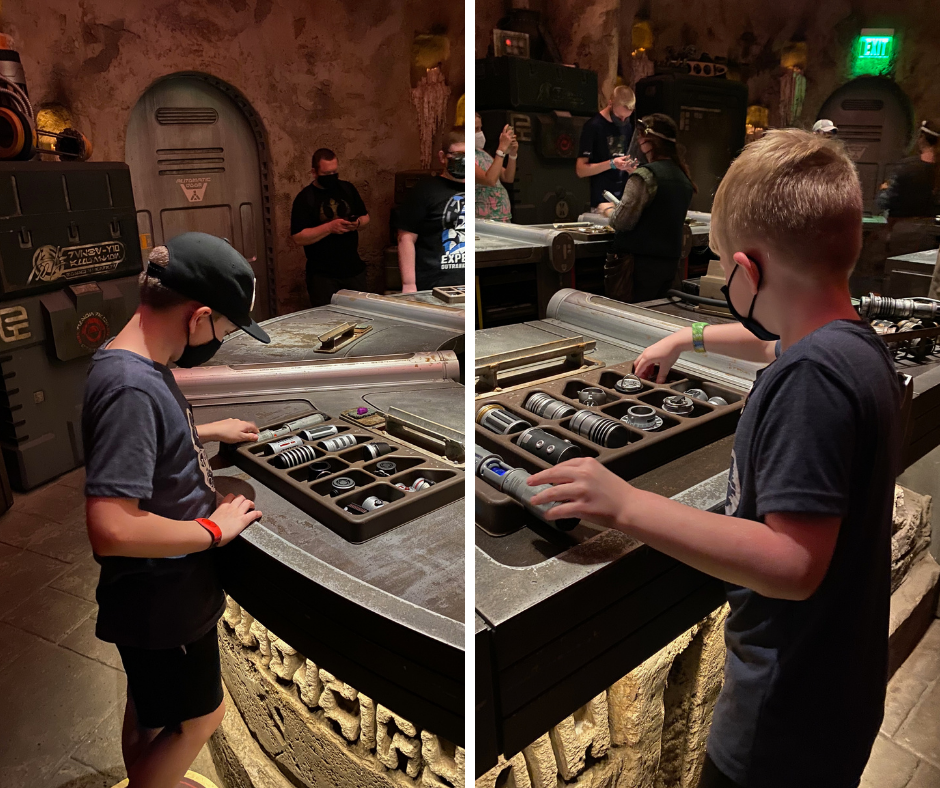 Savi then walks you through the building process in a special secret room. Every person building is allowed one additional guest who gets to watch. Each lightsaber comes with a carrying bag and breaks down so they can be stored in the overhead compartment on an airplane.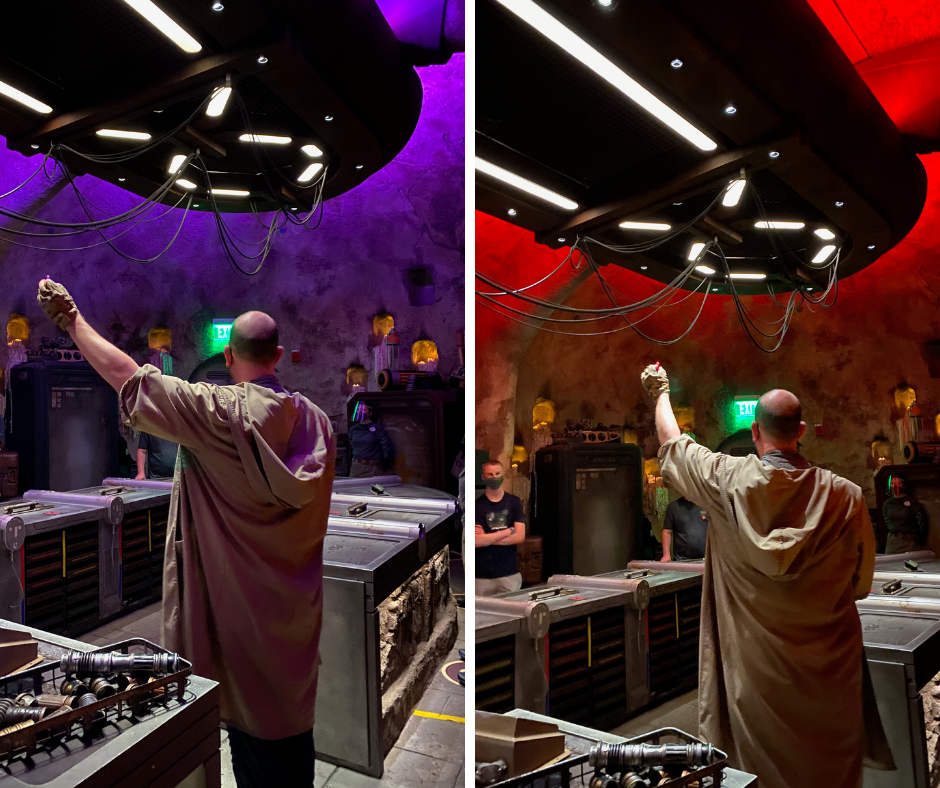 Just outside Savi's workshop, keep your eye open for some of your favorite characters. Characters aren't currently doing meet and greets and they don't appear at specific times but we still managed to see plenty including Chewbacca!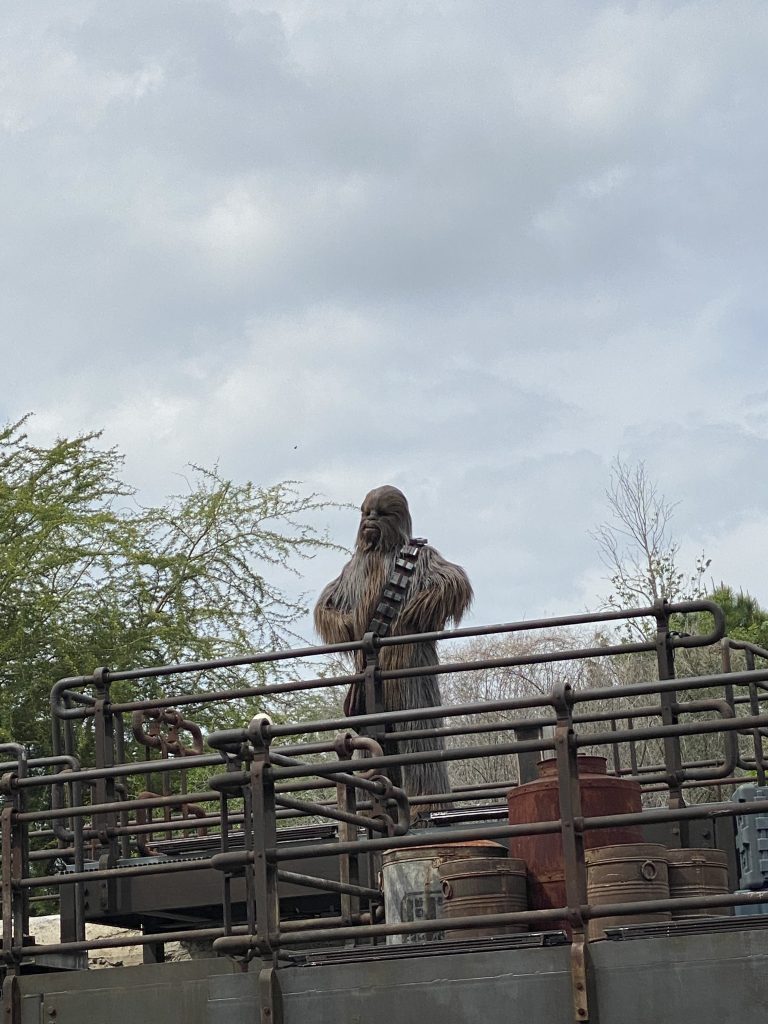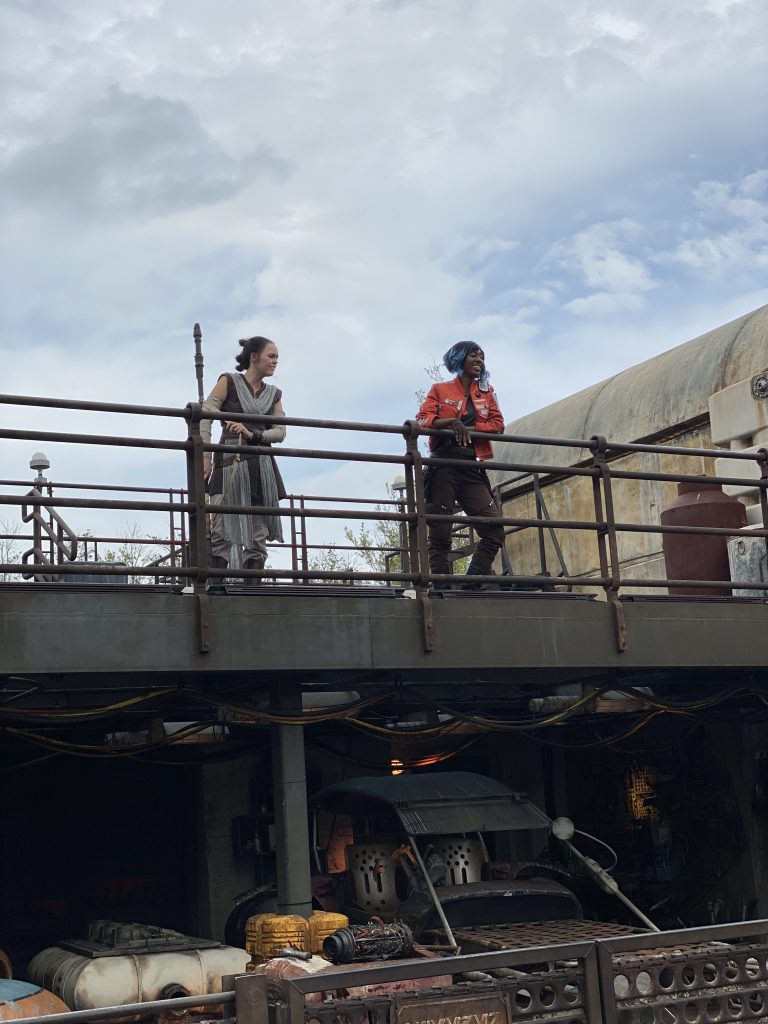 Instead of the traditional parades where large crowds might gather, Disney is doing "character cavalcades" at unannounced times. If you miss one, don't worry though. We managed to catch all the traditional characters several times during our 1 1/2 days at Hollywood Studios.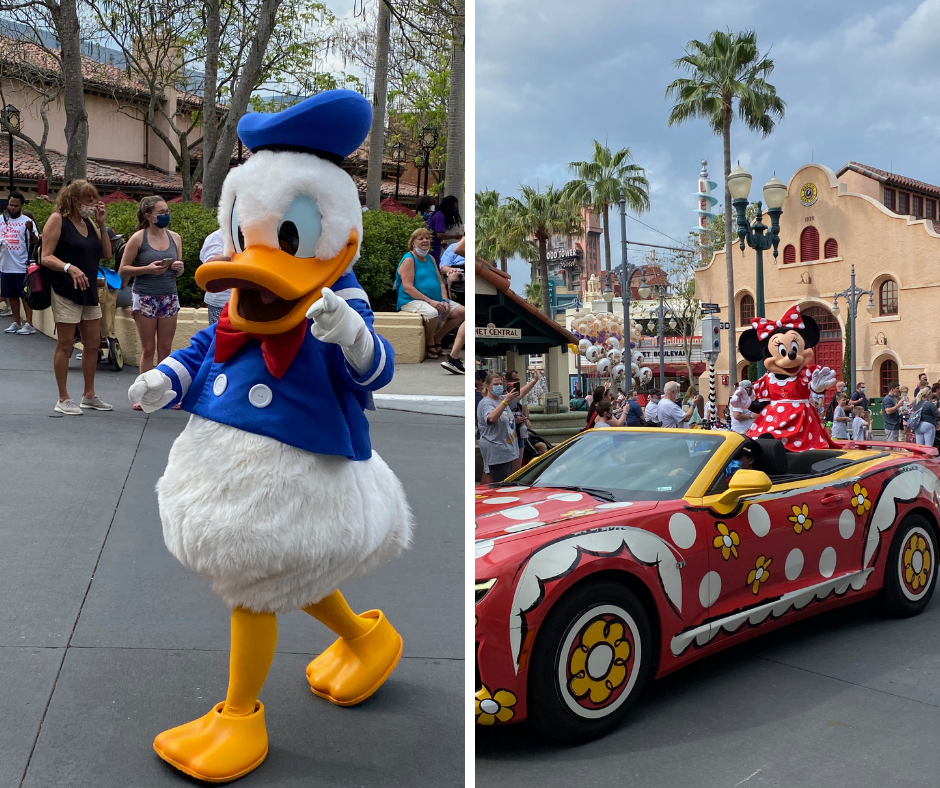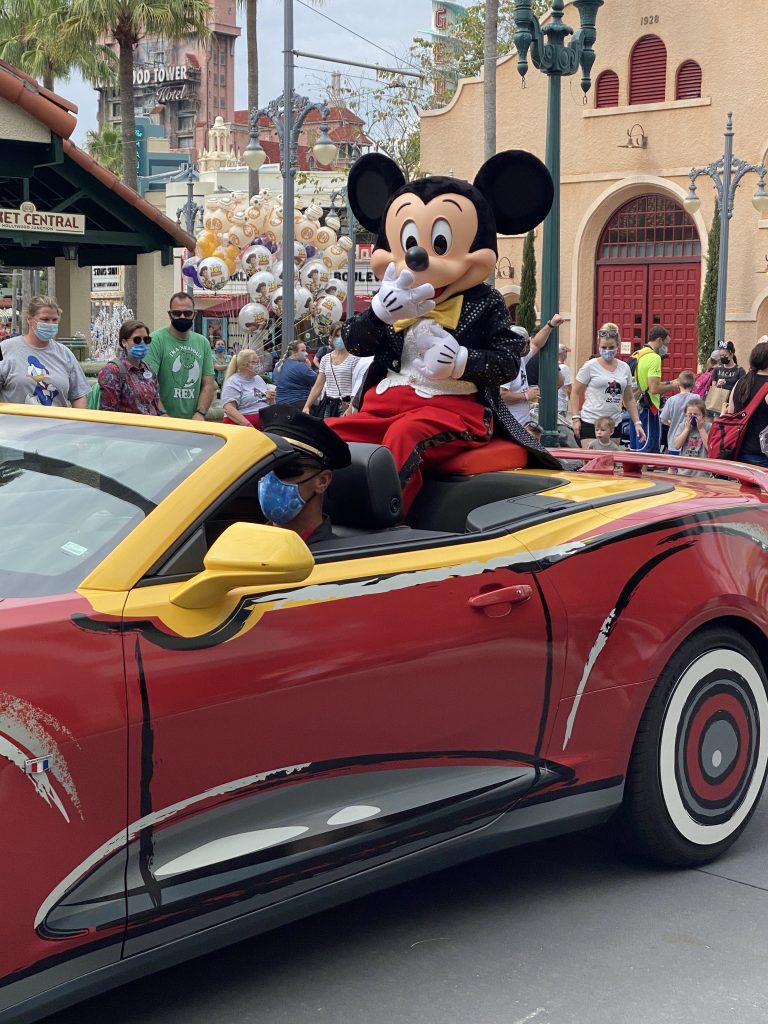 And that's a wrap on Disney's Hollywood Studios! Make sure to check out the posts on the other parks. Once all the posts are live, I'll link the other posts here as well.
Note: Information in this post is current as of 5/24/21. Always check the Disney website for more up-to-date information regarding mandates and policies as guidelines are constantly changing.