Note: This trip was provided for free in exchange for an honest, unbiased review. As always, my thoughts and opinions are my own.
Dora, Missouri. Chances are you've probably never heard of it. This tiny town in southern Missouri is just 30 miles from the Arkansas border and nestled in the heart of the Ozarks. And in this tiny town among the winding roads and tall trees you'll find River of Life Farm. River of Life Farm sits on 500 acres of private land and is best known for their luxury tree top cabins that are perfect for families, couples, or even someone just looking to get away for a little peace and quiet. In addition to their tree houses, guests can also stay at a suite in the main lodge. With traditional vacations being postponed and recommendations to avoid flying and crowded tourist spots, these tree top cabins make for the perfect socially-distanced vacation.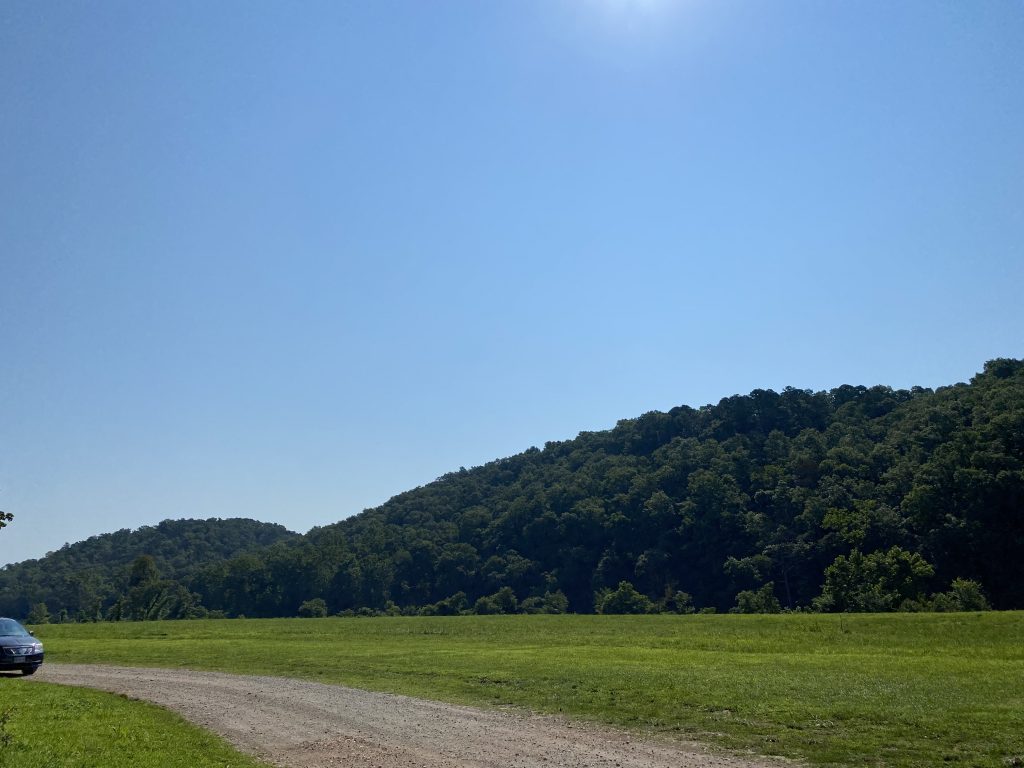 In addition to their tree top cabins, ROLF also offers day float trips on the North Folk River. Make sure to arrive at the office before 9:30 a.m. to reserve your kayak, canoe, or raft.
Our family rented the four person raft and at 10 a.m. we hopped on the bus that took us to the start of the float. If you're lucky, Myron McKee will be your driver. His family is the 3rd generation to own the land. As the bus makes it's way up the steep gravel hill, make sure to have your singing voice ready to bust out Amazing Grace. This is done to ensure that the bus does indeed make it up the hill and Myron does a great job leading the hymn 🙂
Once our raft was aired up, the boys threw on their life jackets, J and I grabbed the paddles, and down the river we went.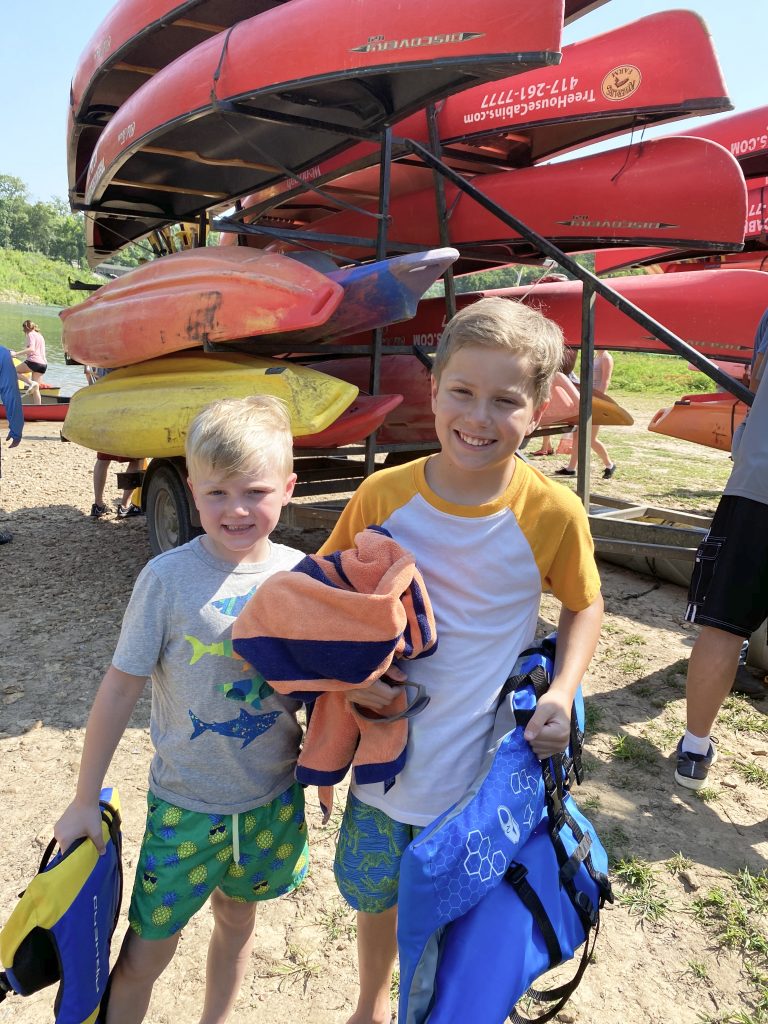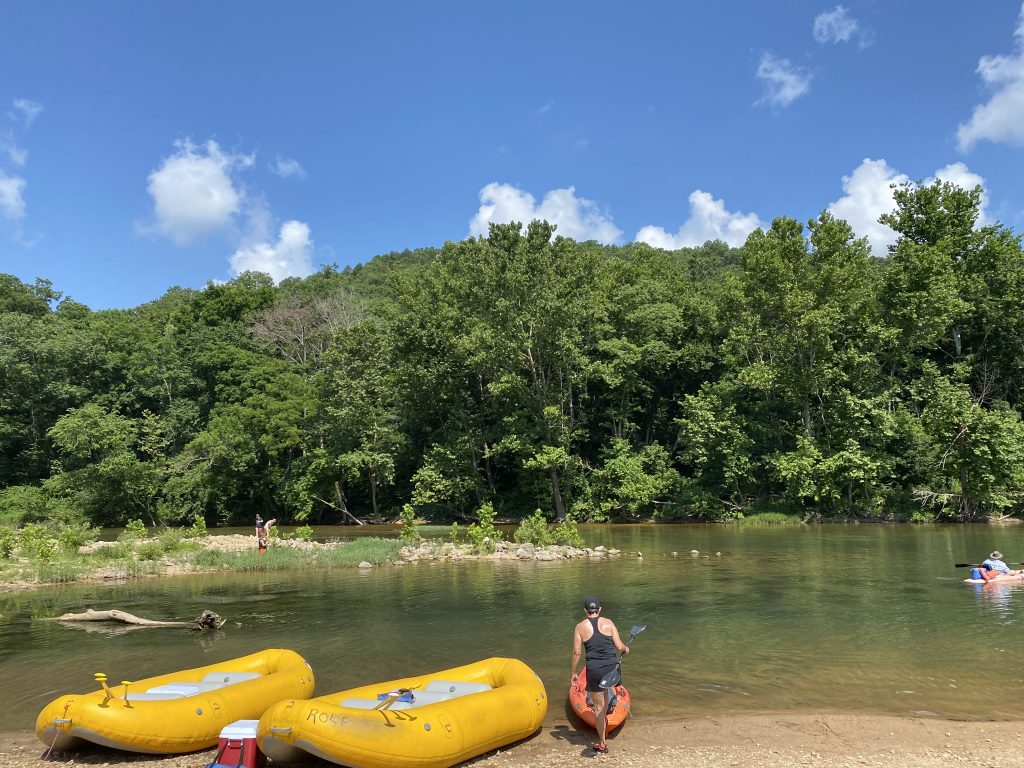 While his dad and brother paddled, Jack relaxed with a nice cold drink.
Jack did remove his life jacket for a brief second to cool off but I was sitting right beside him. For safety, children should wear life jackets at all times while on the river, even if they are a strong swimmer.
One of our favorite moments was coming upon this spot where another river flows into the North Folk. The water here was FREEZING and we had fun dipping our toes in. Our MOST favorite moment of the trip was when a bald eagle flew right over our heads and we watched it coast along the river's bank. The boys are still talking about how cool that was.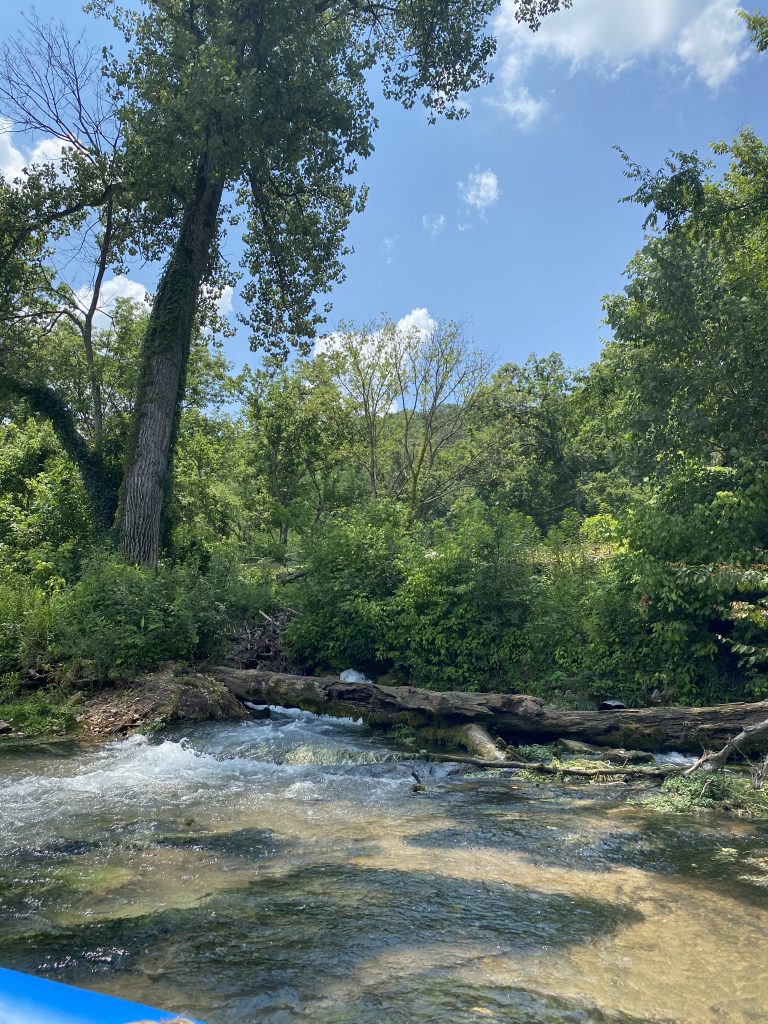 After completing the 7 mile float, we hopped off at the ROLF dock and made the one minute walk back to our car and then the thirty second drive to our cabin. This is a HUGE benefit of staying at ROLF. Who wants to travel to a hotel or cabin several miles away after 4 hours of floating in the hot sun? Not us. To be in our cabin less than 5 minutes after stepping out of the raft was a blessing.
Walking into the cool air-conditioned cabin I was beaming ear to ear. The boys shouted, "This is awesome!!" as they ran upstairs to their very own loft area. The cabin was even better than the description on the website and any cabin that has electricity, air, and a bathroom is my kind of cabin 🙂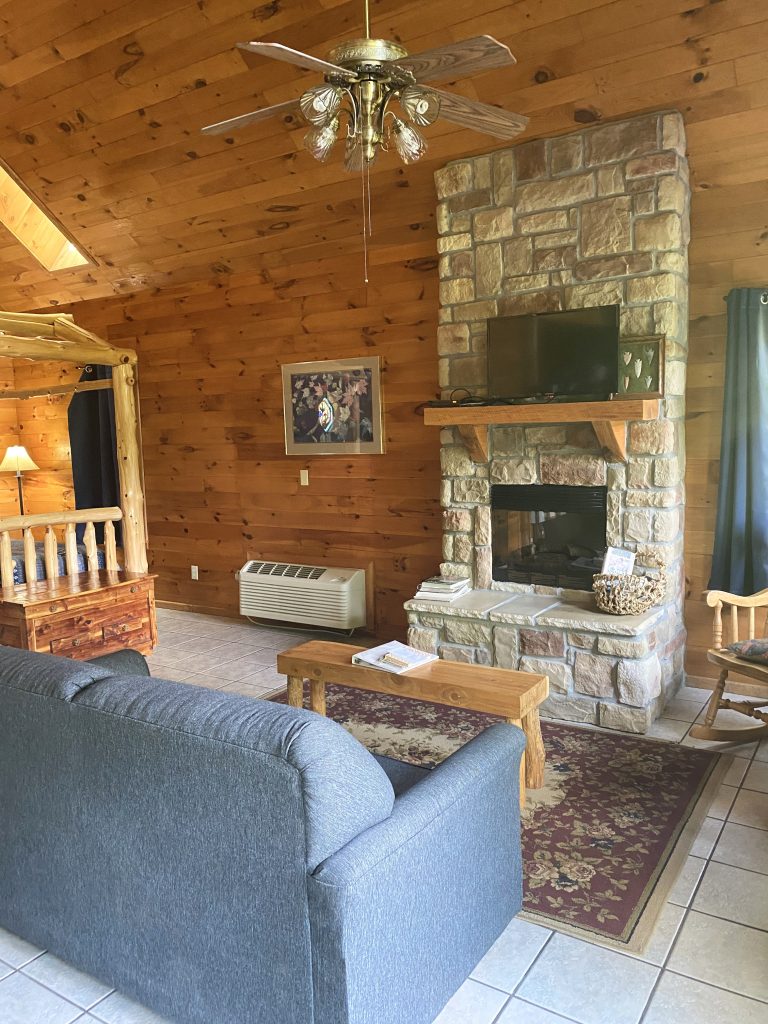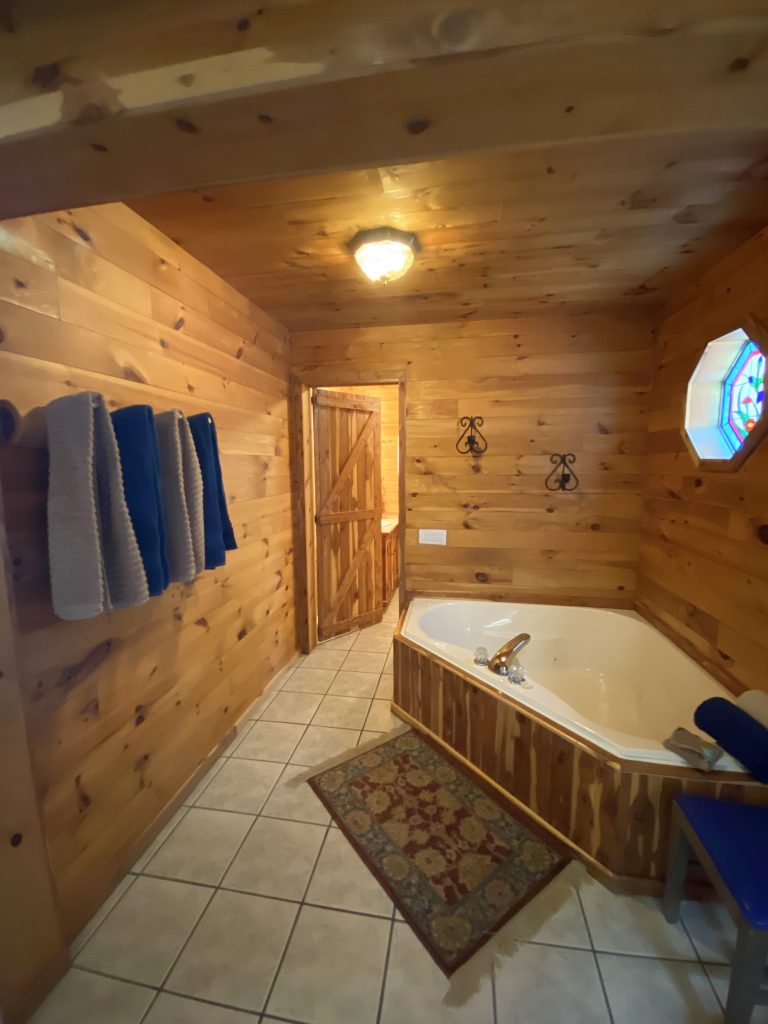 While the boys took a bath in the "hot tub" (whirlpool bathtub) I enjoyed the view from the patio and got to work making a late lunch/early dinner. We took food in a large cooler and then transferred everything to the full-size fridge. The cabin had pots, pans, plates, etc. as well as a microwave and oven.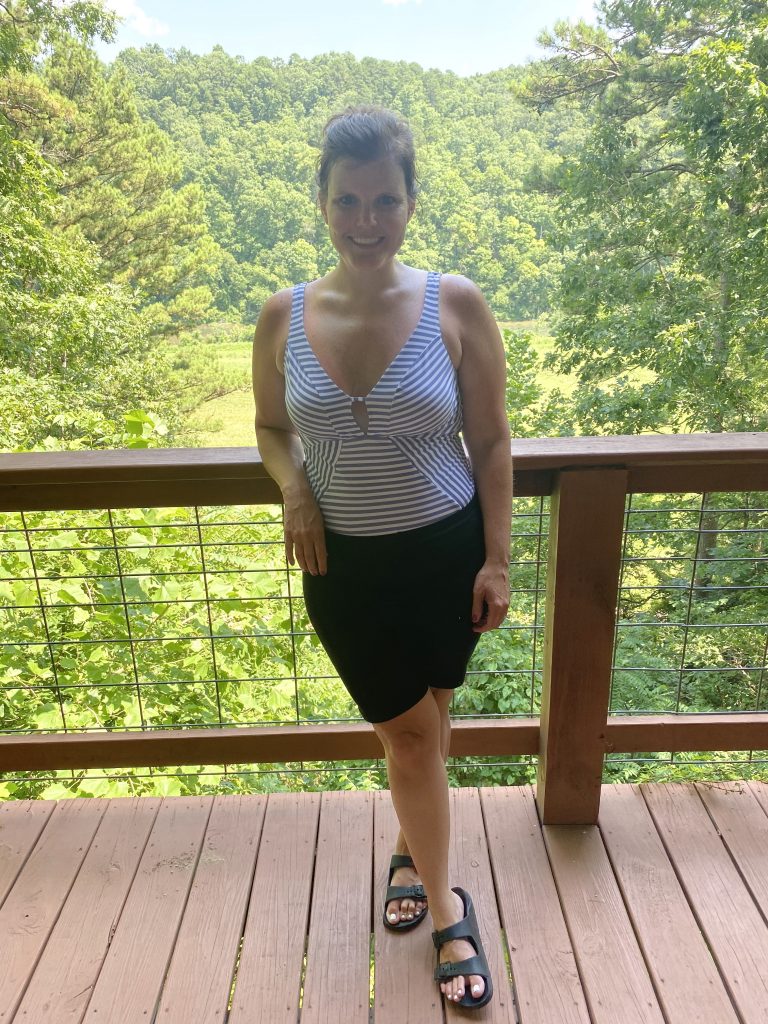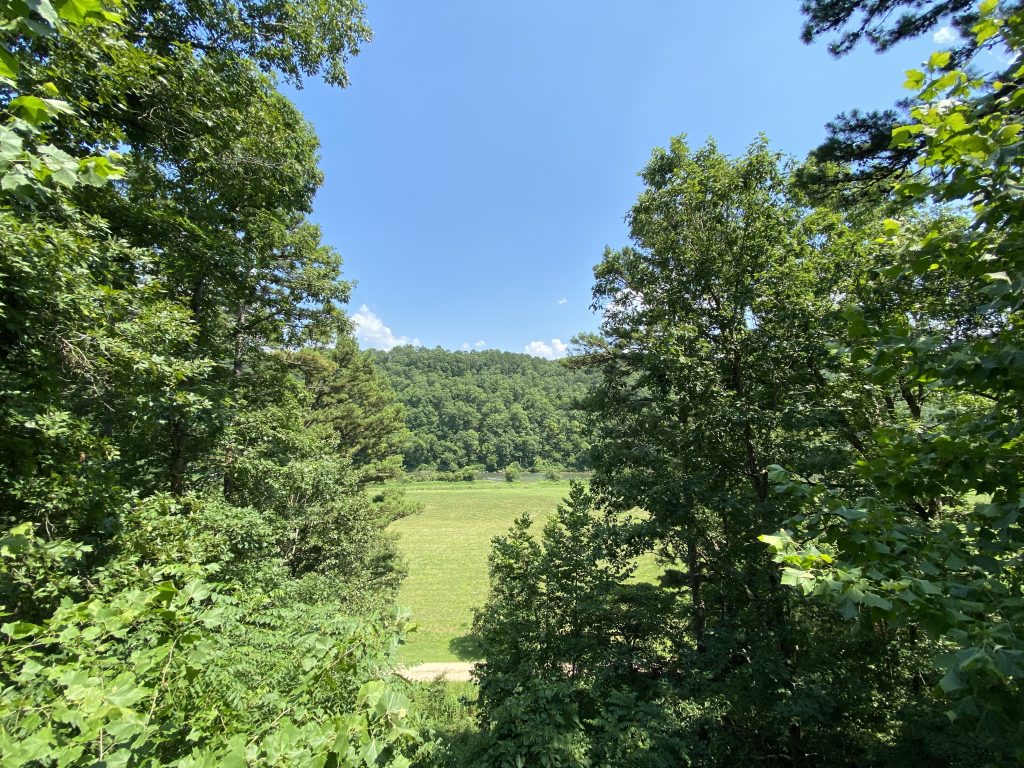 Freshly bathed boys with full bellies. With no internet, cable, or even cell phone service, we all took a little nap before heading out to explore more of the property. We walked down to the river and saw the sweetest baby bunnies as well as a deer and it's fawn.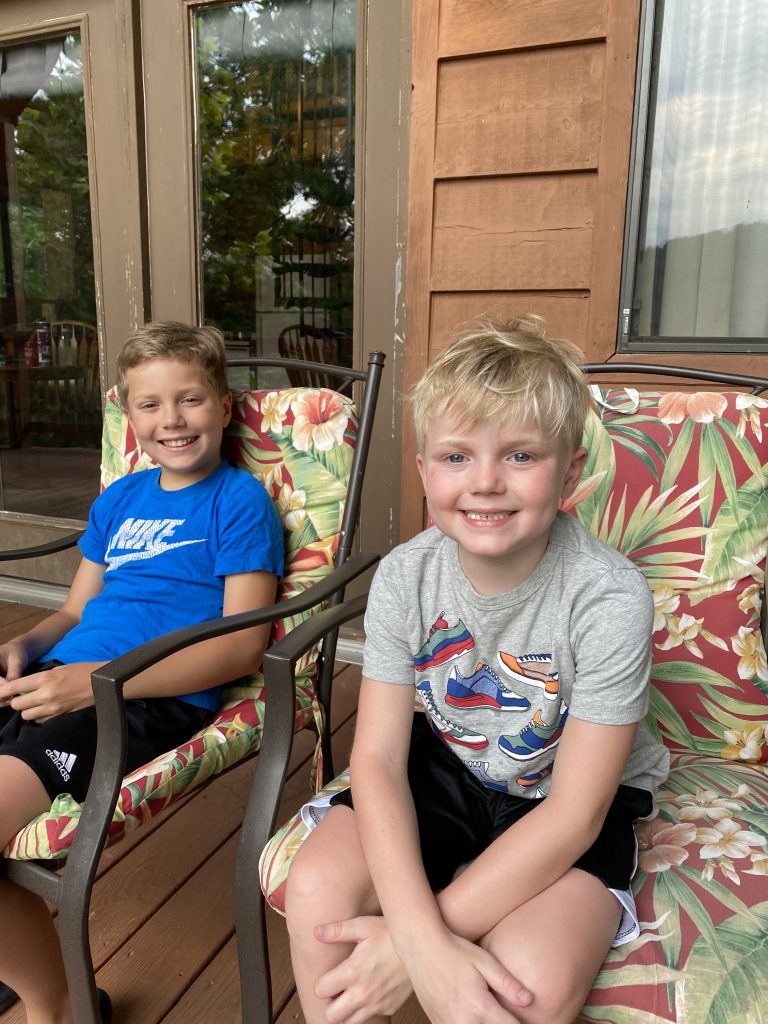 A worm's eye view of the cabin. Unlike other businesses who advertise "tree house cabins," ROLF cabins are literally in the tree tops.
This spot of the river is known as the "Falls" and is a 2-3 foot rock ledge. We all had a blast going over it in the raft.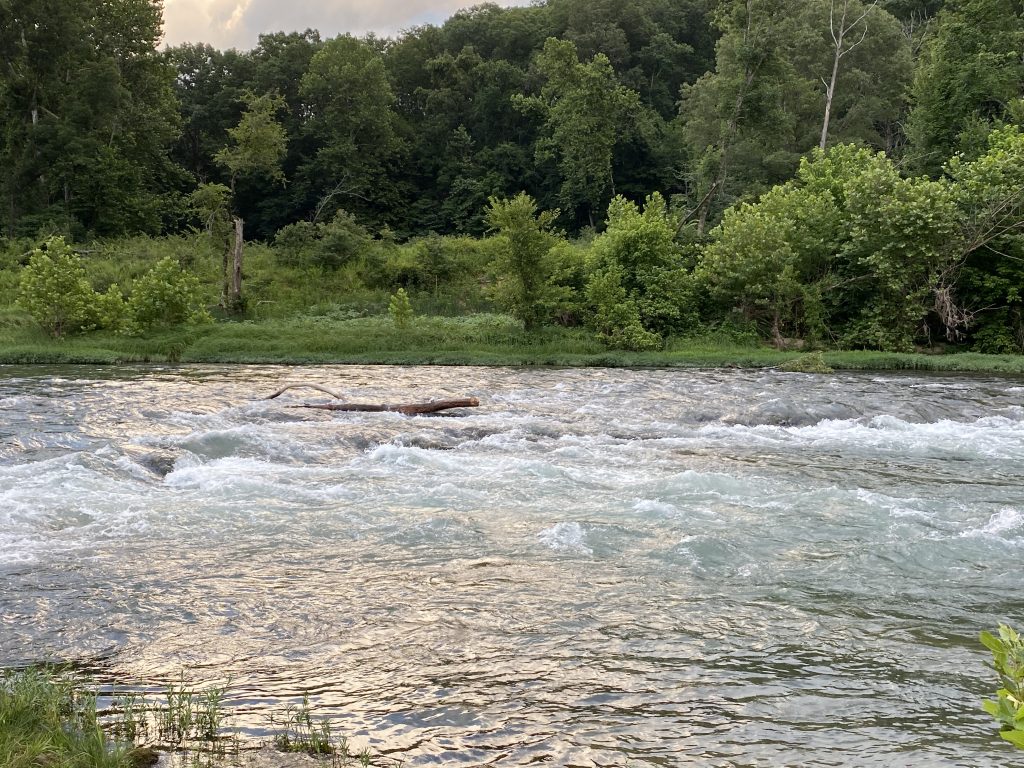 As the sun set we heard a rustling in the woods and saw two deer right underneath our porch.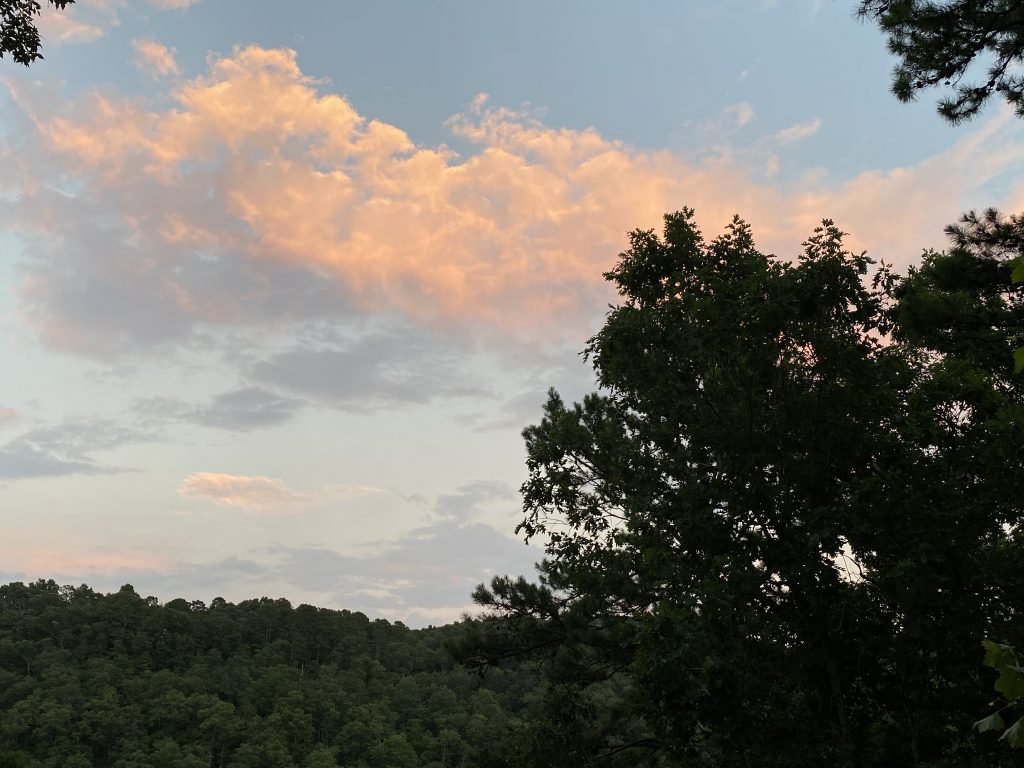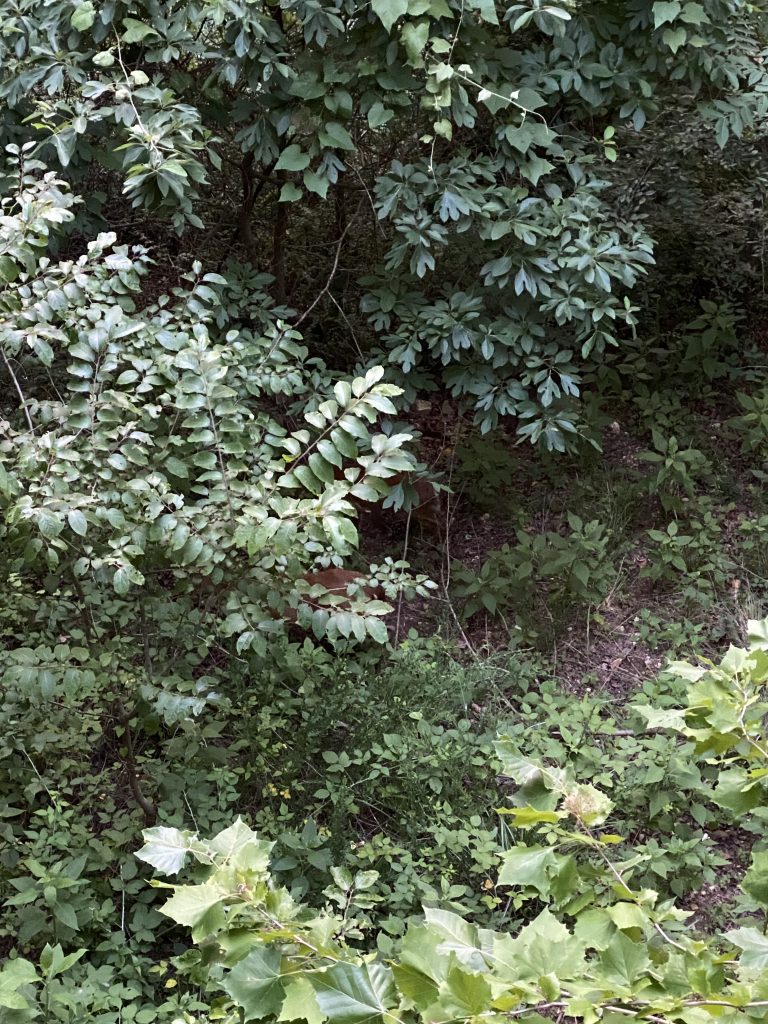 I can't believe I'm even typing this but the boys slept in while J and I got up early to see the sunrise. And after enjoying the early morning quiet, we quickly fell back asleep.
After a simple breakfast we packed everything up, took one final picture, and said goodbye to our amazing Tree Top Cabin.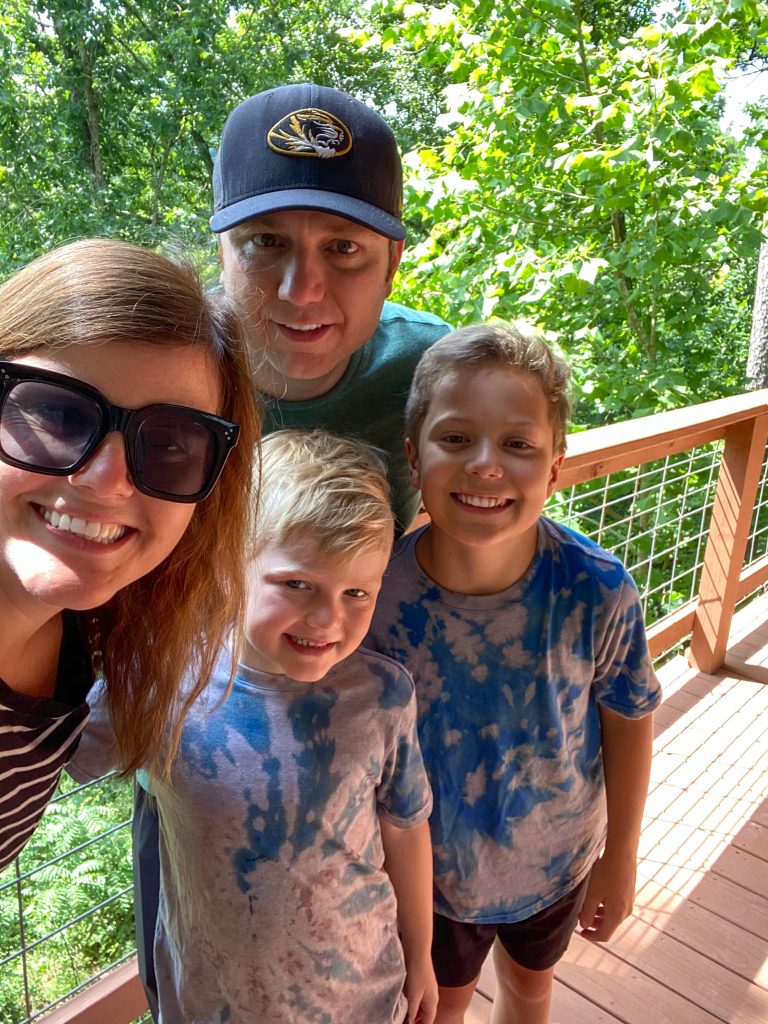 I think it's pretty obvious that I really loved our stay at River of Life Farm but don't just take it from me. Here's a note Ben left in the guest book at the cabin. It's an important reminder to unplug, get outside, and most importantly spend time with your family.

Things to Know Before You Go:
-Our cabin was the Tree Top Loft.
-Cell phone service is very limited. In our cabin I had no service and my husband had one bar depending on where he stood. There is a "Hillbilly Cell Phone Booth" up the road from the cabins where I was able to get a signal. On the way home I stopped here to load directions in the maps app.
-Speaking of driving, there are a few steep, gravel roads. ROLF is open year round and I think it would be beautiful to stay in the winter when everything is covered in white, just keep in mind road conditions.
-Although cabins do have a television, there is nothing to watch 🙂 The cabins have a DVD player so if you want or need something to watch, make sure to bring a few DVD's with you.
-If you forget something you need or want to grab food, West Plains is about 25 miles/ 40 minutes away.
-Make sure you check out ROLF activities page to check out even more activities offered including fishing and star gazing.
–We took 2 coolers; one small one for the raft that held drinks and sandwiches and a larger one for more drinks and food for dinner and breakfast. We left the larger one in the car while we floated and it still had plenty of ice when we returned.
-Although the cabin has all the pots, pans, and dining ware you need, we took paper plates and utensils to cut down on the amount of dishes I had to wash. I also recommend bringing microwaveable popcorn- we served it out of solo cups and the boys loved having a late night snack together.
-ROLF does not provide paper towels, so bring your own. I always like to bring a couple of rolls and then leave an extra one just in case the people after us forget. Linens, towels, and travel sized shampoo and soap are provided.
-To help cut down on the spread of germs, we brought our own life jackets. ROLF did have life jackets on the bus but they looked like they were adult sized.