Whether you work in or outside the home, making dinner at the end of a long day is the last thing I want to do. As much I love trying new recipes, I save those for the weekends when I have more time  and instead turn to my tried and true quick and easy weeknight meals.
1. Ravioli Lasagna
Ain't nobody got time to make homemade ravioli on a weeknight, but thankfully with this recipe you don't have to.
What You Need:
-1 bag frozen cheese ravioli
-1 jar spaghetti sauce
-ground beef or sausage (I used 1/4 lb, but add as much or as little as you like)
-1 cup mozzarella cheese
-1/2 cup parmesan cheese
-9×9 in. pan
What to do:
Boil water and cook the ravioli to al dente (it will continue to cook in the oven) Drain and set aside.
2. In a skillet, cook the ground beef then add sauce and heat through
3. In a pan, place a thin layer of sauce then 1/2 c mozzarella followed by a layer of ravioli. Top with more sauce, ravioli, and mozzarella cheese.
4. After the last layer, top with parmesan cheese and bake at 350 degrees for 15 minutes or until cheese is golden brown.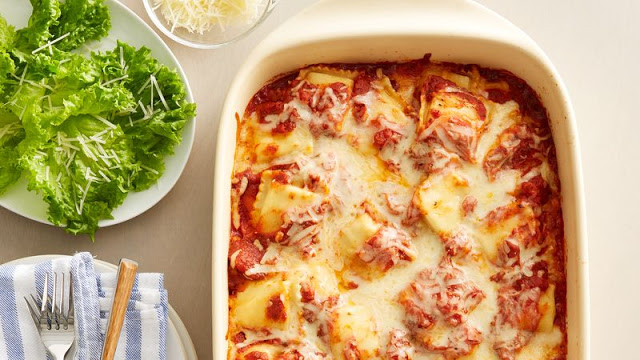 photo via
2. Honey Garlic Shrimp
I know what you may be thinking, but this recipe only takes 20 minutes and is so delicious. At one point I made it 3-4 times a week. To be honest, the boys aren't huge fans of shrimp so they usually eat chicken nuggets or leftovers from the night before.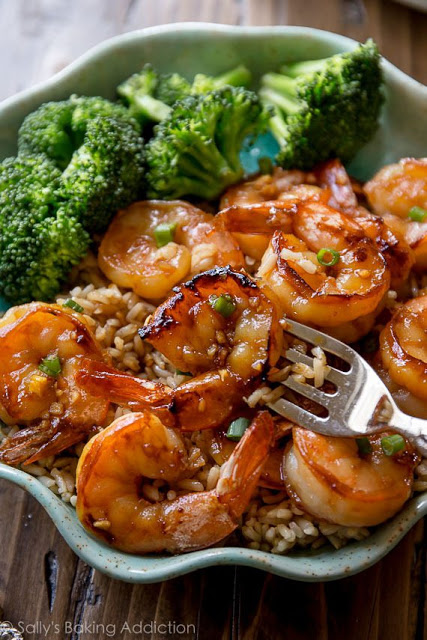 3. Crockpot Chicken Salsa
This recipe couldn't be easier. Add raw chicken breasts to a crockpot ( I use frozen) then sprinkle with 2-3 tbs of taco seasoning. Top the chicken with a jar of salsa and cook on low for 6-8 hours for frozen or 4-6  hours if not. Shred and serve. I use this recipe for tacos, burritos, lettuce wraps, and nachos.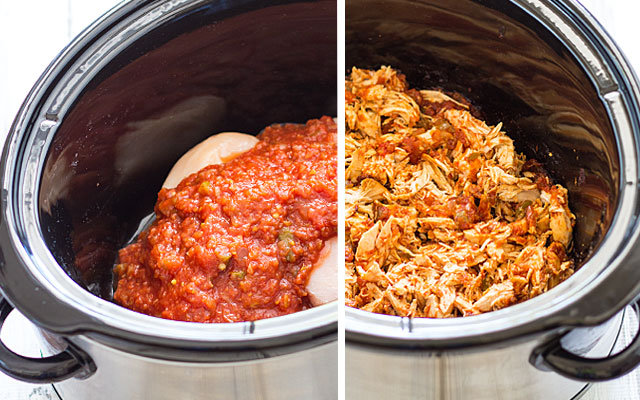 photo via
4. 10-Minute Wonton Soup
Sam at Ahead of Thyme has a recipe for a 10 minute soup that's perfect for when you want a light yet satisfying dinner. I top ours with crunchy wonton strips that I found in the crouton aisle.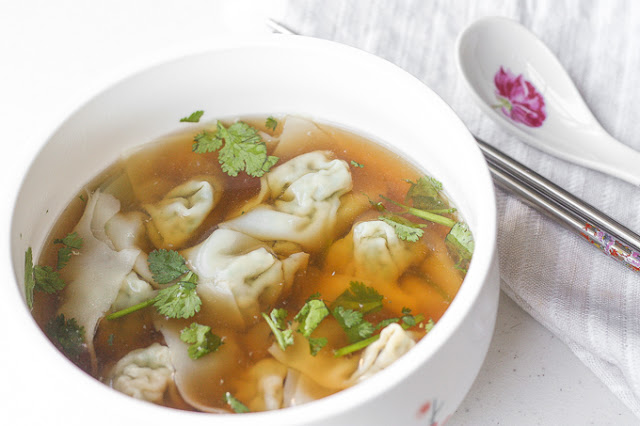 5. Breakfast Skillet
Breakfast for dinner can be a quick and easy solution when you're short on time. This skillet recipe allows you to mix up your regular bfd fixings and you can add whatever veggies you have which makes it perfect for when you need to clean out the fridge!
What You Need:
-chopped frozen hash browns (as much or as little as you like)
-1/2 lb sausage
-1 red pepper, 1 green pepper, and 1/2 small onion, finely chopped
-3 eggs
-1-2 tbsp olive or vegetable oil
What You Do:
Heat oil on medium and brown potatoes to your desired consistency-we like ours pretty crispy.
2. While the potatoes are browning, cook the sausage and drain.
3. Using the sausage pan, sauté onions and peppers for two minutes. When potatoes are done, move them to one side of the pan and scramble eggs.
4. Add sausage and vegetables into the potato and egg skillet, mix well and serve hot.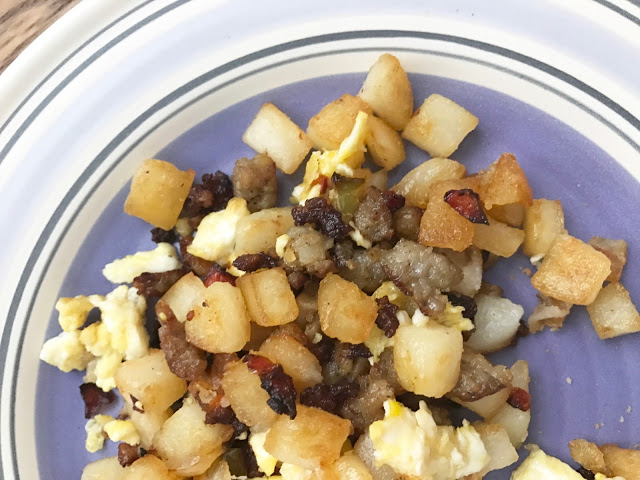 Let me know your favorite quick and easy weeknight meals. I love adding new ones into our rotation!