There's not much I love more than a good theme. My kids' abundance of flag swim trunks and holiday themed pajamas are proof. 4th of July is one of my favorite holidays. The fireworks, spending time with family and friends, and of course celebrating our freedom, makes the day so special and fun. And let's not forget the food. Whether you like to spend the day snacking or having a full on bbq, I'm sharing 5 Fourth of July Themed Foods that are perfect for the holiday!
The combination of flavors in this salad looks delicious! And how cute are those mozzarella stars?!
These mini banana splits are not only festive, but I bet kids would have a blast putting these together.

This dish is perfect if you don't love to cook or you're short on time. If you can't find red tortilla chips you could just use the blue corn chips, white tortilla chips, and red salsa.
Simple, healthy, and relatively mess free. I can see myself eating these by the pool all day long on the fourth.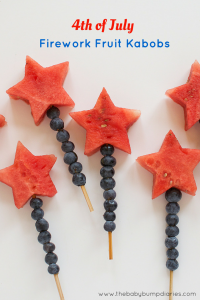 You can't go wrong with a layered dip in the shape of a flag. Serve this with blue and red tortilla chips and you'll definitely be the most festive.