On Friday our sweet Jack turned six. I've talked about my anxiety with each passing birthday and this one was no different. I really tried to soak in all the little moments instead of feeling sad that time is going so quickly. Friday morning we celebrated with a birthday donut and then I brought Jack lunch at school. That afternoon we saw Toy Story 4 (go see it!) before coming back home where the birthday boy opened presents and requested a happy meal for dinner.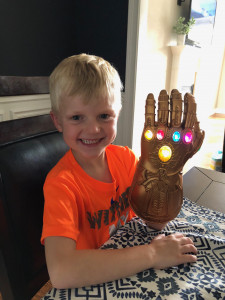 Saturday was Jack's birthday party at our neighborhood pool. You can imagine my panic when I woke up to thunderstorms, dark skies, and temperatures in the 60s. Thankfully the rain stopped and the sun came out creating the perfect pool conditions.
He really took his time making a wish 🙂
Throughout the years I've asked the boys the following questions on their birthday and recorded their answers. I love to look back and see what they said and hopefully they will appreciate someday as well.
Favorite Color: Blue
Favorite Food: Mac & Cheese
Favorite Animal: Penguin
Favorite Book: I don't have one
Favorite Thing at School: Learning to write
Favorite Thing to Do Outside: Ride on Ben's Moped with helmets too
Favorite Holiday: Christmas, actually my birthday 🙂
What do you want to be when you grow up: A video game fixer, engineer, or crayon maker
What are you good at: Seeing stuff
Favorite Movie: Avengers Endgame
What are you thankful for: Mom and Dad
What makes you happy: My birthday
What do you love most about yourself: My heart
What do you love most about your mom: She's kind
What do you love most about your dad: He's nice
What do you love most about Ben: He helps me with stuff
If you could go anywhere where would you go: Chicago
If you could only keep one thing in our house what would it be: Our House so we have everything that we need in our house
Favorite memory: Ms. Van Acker (Kindergarten teacher)
Excited about: My Birthday
Best thing about your family: That they love me
And cue all the tears.