Each year over Memorial Day Weekend my field hosts it's annual conference. Last year J and I spent the weekend in San Diego and the year before that I went to Denver solo. I was so excited when I found out that this year's conference was in Chicago. Not only do I love the city, but it's only 6 hours from where we live. With the relatively short distance, long weekend, and not wanting to spend another Memorial Day away from the boys, the entire family decided to tag along.
Friday
The boys and I drove up Friday morning and got to the city around 3:30pm. J had to work that day so he took a 6pm flight and met us in time for a late dinner. The conference was spread out between three hotels, the Hyatt Regency, Fairmont, and Sofitel. We stayed at the Hyatt and had the best view from our room. The hotel itself as well as the conference space was super nice but our room could use some updating. The location was absolutely perfect though and the hotel was just a few steps from the magnificent mile and riverwalk. The Amazon Go store was literally right outside as well.
Once we got checked in, the boys and I took a quick Uber to the Lincoln Park Zoo. We only had an hour before it closed but we found that to be the perfect amount of time. Although we didn't get to linger too much, we saw all of the animals that were out and the zoo itself is a nature oasis in the middle of a bustling city.
After the zoo we walked around the Lincoln Park neighborhood and stopped in at Vanille for a treat. While the macarons were pretty, if we had to do it again I'd skip them and find something else.
Although J's flight was less than an hour, due to traffic and a shortage of Uber drivers at O'hare, he didn't get to the hotel until 9pm. He literally threw his tuff down and we turned around and got in another Uber to Gino's East for deep dish dinner. J and I have eaten at a couple of their locations but this was our first time at River North. And of course we signed our names on the wall and booth before we left.
Saturday
Saturday was the first official day of the conference. Sessions didn't start until 10am so I grabbed breakfast from Stan's Donuts which was a quick walk from our hotel. The boys thought it was so fun to eat donuts in the hotel bed 🙂 While I went to sessions for the day, J and the kids went to Legoland. Legoland is just outside the city limits in Schamburg, IL and it took them about 30 minutes to drive there.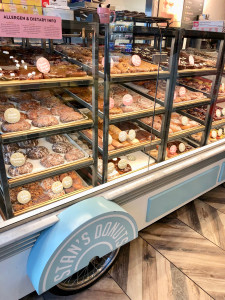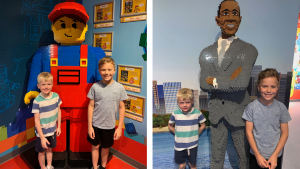 After a long day of learning and legos, we walked to Millennium Park to see Cloud Gate aka "The bean." This was one of the top things Ben wanted to do during the trip. It was also J's first time since it we didn't go there during our last visit because it was so cold.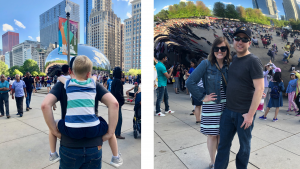 From the Bean we walked to Navy Pier which was a pretty long walk, especially with five year old little legs. It was also 80 degrees by this point and by the time we got near the pier everyone was hot, cranky, and hungry. We had planned to eat dinner at a little Mexican restaurant near the pier but it was packed. Per my husband's decision, we ended up at Harry Caray's on the pier and it was mediocre at best. It took forever to get our food which wasn't even good and it was pricey. Next time I'd try out the burgers at Billy Goat Tavern.
Despite a less than stellar dinner, the pier itself was a lot of fun. Every Saturday between Memorial Day and Labor Day the city shoots off fireworks from the water at 10:15pm. We had some time to kill before they started so we rode the ferris wheel and let the kids run off some energy. Right before the show we grabbed popsicles from Ozzie's Pops (the strawberry & cream was delicious!) and settled in to watch the fireworks.

Sunday
After a late night on Saturday, the boys all slept in while I picked up Do-Rite Donuts. J and I tried their popular chicken sandwich… served on a donut, and it was surprisingly good. The boys loved their regular glazed donuts as well.
While everyone got ready I went to a session and then we hoped on the train to Chinatown. Ben thought he was so cool riding on the subway for the first time 🙂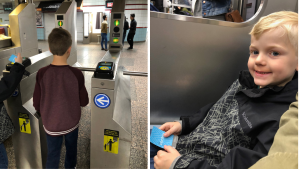 Our favorite store in Chinatown was the candy store Aji Ichiban. It was full of all different types of unique Chinese candies including green tea and strawberry Kit Kats. Let's just say we all prefer the original chocolate.
After buying more candy than I'd like to admit, we Ubered back downtown for a quick lunch at Big Bowl where I had the best Asian Chicken Chopped Salad.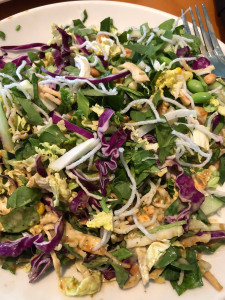 After lunch we went back to the hotel and I headed to my afternoon sessions. My last session didn't end until 7pm so the boys met me in the lobby and then we walked to Safehouse for dinner. Safehouse is a spy themed restaurant where "agents" complete missions and investigate clues. In order to even enter the building you must say the password. If you don't know it, you'll have to complete a specific task which is broadcast on giant televisions for the entire restaurant! The kids thought it was fun and they really loved the magician and the secret escape passage. The food was better than I expected from a themed restaurant but it's important to note that all kids meals are $20 each. Although our kids don't eat a lot of food, we felt the cost was justified by the experience.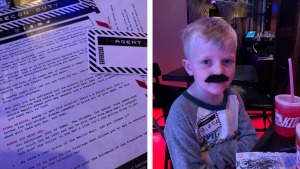 Monday
This was the last day of the conference and our final full day in Chicago. Having had our fair share of donuts, we decided to try out Eggy's Diner for an early breakfast before I went to my last couple of sessions. The cinnamon roll pancakes were delicious!
Once I was done at the conference, we took an Uber to the Shedd Aquarium and I'm so glad we saved this activity for the last day. It was pretty chilly and windy and it ended up pouring right as we got inside.
Both boys thought the stingrays felt like raw chicken (eww)….and the starfish water was freezing.
One of our favorite things at Shedd was the aquatic show with the whales and dolphins. One day I want to go back and do the interactive experience where you can swim with the Belugas.
When we came out a fog had rolled in off the lake over the city.
That night we had a low-key dinner at our hotel before getting into our pjs and watching a movie in bed. We had such a fun Memorial Day Weekend and I'm so glad we could spend it all together.