Well I never thought I'd be making a chowder in mid-April, but here we are. And if there's anything good that can come out of the winter that will never end it's this creamy soup filled with chunks of tender potatoes, sweet corn, and bacon. You can't forget the bacon.

What You Need:
-1/4 cup salted butter
-1/3 cup flour
-6 cups chicken broth
-1/2 red bell pepper
-1/2 green bell pepper
-1/4 cup diced jalapeños (I used jarred)
-3 medium to large russet potatoes
-2 cans sweet corn, drained
-1 pound bacon, cooked and crumbled (save the grease)
-1/4 tsp minced garlic
-1 1/2 cups heavy cream
What To Do:
1. Dice red and green peppers and jalapeños.
2. In a large pot, melt the butter then the add peppers and jalapeños. Sauté until tender.
3. Add the minced garlic to the pot and stir for ~ 1 minute.
4. Slowly add the flour to the pot, stirring constantly.
5. Add in chicken broth and whisk until smooth.
6. Peel and dice potatoes into bite sized chunks. Add to the pot and cook for 10-15 minutes on medium heat until tender.
7. Once potatoes are tender, add in the corn and heavy cream. Simmer for an additional 10 minutes.
8. While the chowder is simmering, cook the bacon and crumble into pieces. SAVE THE BACON GREASE!
9. Add 1/4 of the crumbled bacon and the grease to the pot. Stir until well incorporated.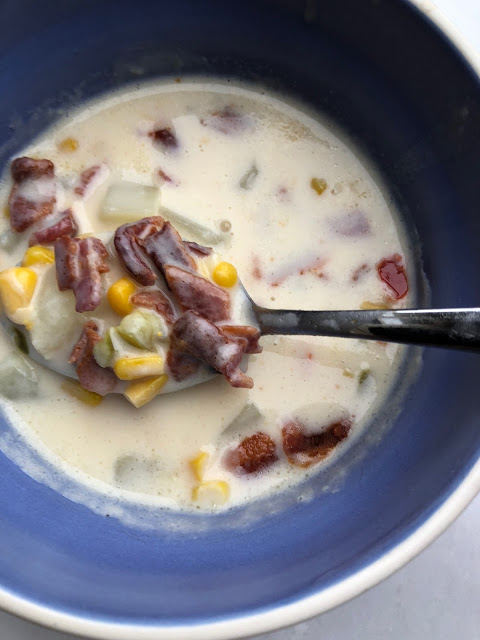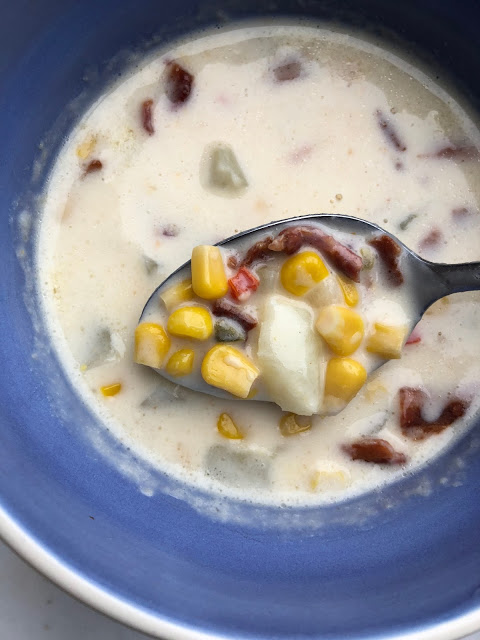 10. Cook for an additional 5-10 minutes. Serve hot and top with the remaining bacon crumbles.
Recipe adapted from Cooking Classy.