As tv shows begin to wrap up and the weather gets warmer, it's
the perfect excuse to read all those books you didn't have time for earlier in the year. I've been going through books like crazy and this last batch had some of my favorites of all time. If you don't already follow Biana's blog, make sure you do because a lot of these books were recommended by her.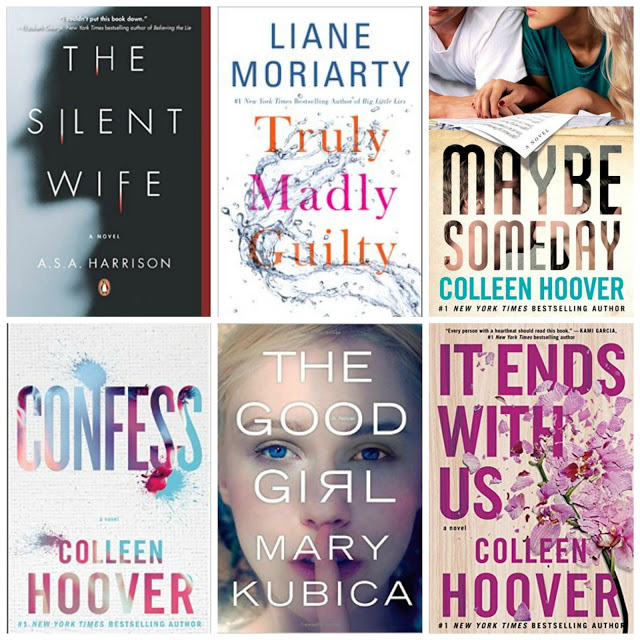 Let's start with the one book that was just ok.
The Silent Wife by A.S.A Harrison
This was the only book that I didn't love. It wasn't bad, but it definitely didn't suck me in as much as the other books I read.
"Jodi and Todd are at a bad place in their marriage. Much is at stake, including the affluent life they lead in their beautiful waterfront condo in Chicago, as she, the killer, and he, the victim, rush haplessly toward the main event. He is a committed cheater. She lives and breathes denial. He exists in dual worlds. She likes to settle scores. He decides to play for keeps. She has nothing left to lose. Told in alternating voices, The Silent Wife is about a marriage in the throes of dissolution, a couple headed for catastrophe, concessions that can't be made, and promises that won't
be kept."
The Good
Truly Madly Guilty by Lane Moriarty
Moriarty does it again and this book will leave you asking what in the heck happened at the BBQ.
"Sam and Clementine have a wonderful, albeit, busy life: they
have two little girls, Sam has just started a new dream job and Clementine, a cellist, is busy preparing for the audition of a lifetime. If there's anything
they can count on, it's each other. Clementine and Erika are each other's oldest friends. A single look between them can convey an entire conversation. But theirs is a complicated relationship, so
when Erika mentions a last minute invitation to a barbecue with her neighbors, Tiffany and Vid, Clementine and Sam don't hesitate. Having Tiffany and Vid's larger than life personalities there will be a welcome respite. Two months later, it won't stop raining, and Clementine and Sam can't stop asking themselves the question: What
if we hadn't gone?"
The Great 
The Good Girl by Maria Kubica 
From the moment Mia was kidnapped, I experienced a roller coaster of emotions. This book is far more than a story about a kidnapping gone wrong, and I loved how developed all of the characters were.
"One night, Mia Dennett enters a bar to meet her on-again, off-again boyfriend. But when he doesn't show, she unwisely leaves with an enigmatic stranger. At first Colin Thatcher seems like a safe one-night stand. But following Colin home will turn out to be the worst mistake of Mia's life. When Colin decides to hide Mia in a secluded cabin in rural Minnesota instead of delivering her to his employers, Mia's mother, Eve, and detective Gabe Hoffman will stop at nothing to find them. But no one could have predicted the emotional entanglements that eventually cause this family's world to shatter."

It Ends with Us by Colleen Hoover 
This may be my favorite book of all time. And Colleen Hoover has quickly become one of my favorite authors. I can't tell you how many times I cried while reading this book. Have you ever finished a book and wished it could go on forever? That's how I felt when I read the last page.
"Lily hasn't always had it easy, but that's never stopped her from working hard for the life she wants. She's come a long way from the small town in Maine where she grew up – she graduated from college, moved to Boston, and started her own business. So when she feels a spark with a gorgeous neurosurgeon named Ryle Kincaid, everything in Lily's life suddenly seems almost too good to be true. Ryle is assertive, stubborn, and maybe even a little arrogant. He's also sensitive, brilliant, and has a total soft spot for Lily, but Ryle's complete aversion to relationships is disturbing. As questions about her new relationship overwhelm her, so do thoughts of Atlas Corrigan – her first love and a link to the past she left behind. He was her kindred spirit, her protector. When Atlas suddenly reappears, everything
Lily has built with Ryle is threatened."

Maybe Someday by Colleen Hoover 
I found myself torn between the characters and the love and loyalty between all of them. Ridge's unique characteristic also adds a dynamic to the book unlike anything I've ever read.
"At twenty-two years old, Sydney has a great life: She's in college, working a steady job, in love with her wonderful boyfriend, Hunter, and rooming with her best friend, Tori. But everything changes when she discovers Hunter's cheating on her–and she is left trying to decide what to do next. Sydney becomes captivated by Ridge, her mysterious neighbor. She can't take her eyes off him or stop listening to the passionate way he plays his guitar every evening out on his balcony. And there's something about Sydney that Ridge can't ignore, either. When their inevitable encounter happens, they soon find themselves needing each other in more ways than one"

Confess by Colleen Hoover
I told you I really like Colleen Hoover 🙂 This book was an easy read and I found myself wanting to scream, just tell her!
"At age twenty-one, Auburn Reed has already lost everything important to her. In her fight to rebuild her shattered life, she has her goals in sight and there is no room for mistakes. But when she walks into a Dallas art studio in search of a job, she doesn't expect to find a deep attraction to the enigmatic artist who works there, Owen Gentry.  For once, Auburn takes a chance and puts her heart in control, only to discover that Owen is keeping a major secret from coming out. The magnitude of his past threatens to destroy everything important to Auburn, and the only way to get her life back on track is to cut Owen out of it. To save their relationship, all Owen needs to do is confess. But in this case, the confession could be much more destructive than the actual sin."