You can't go wrong with anything you order at California Pizza Kitchen but I always seem to come back to their Thai Chicken Pizza. It's probably best that I don't live near a CPK or I'd be ordering it way too often. And since I don't get to eat this pizza as often as I'd like, I thought I'd try to re-create it at home.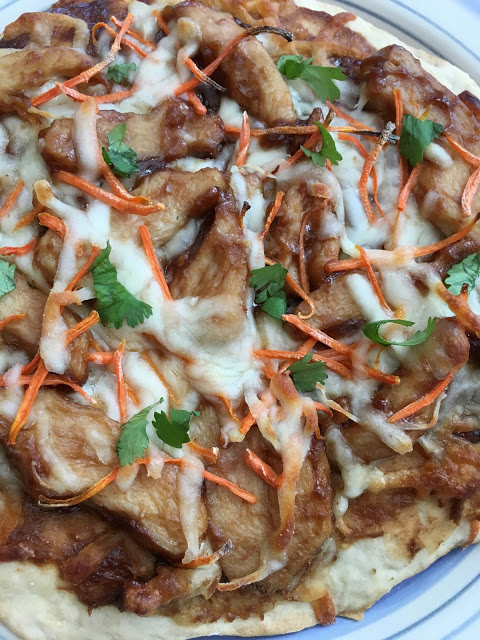 For the crust I followed this recipe, but use whatever recipe you prefer or make it really simple and use store bought dough. Once you have the crust, you'll need the following ingredients for the sauce and toppings.
What You Need:
Peanut Sauce
-1/2 cup peanut butter
-1/2 cup hoisin sauce
-1 tablespoon honey
-2 teaspoons rice wine vinegar
-1/2 teaspoon ground ginger
-1 tablespoon sesame oil
-1/4 teaspoon dried red pepper flakes
-1 tablespoon oyster sauce
-2 tablespoons water
Pizza
-2 chicken breasts cut into thin strips
-2 cups shredded mozzarella cheese
-3 green onions sliced
-1/2 cup bean sprouts
-1/3 cup shredded carrots
-fresh chopped cilantro
What To Do:
Preheat oven to 450 degrees.
1. Combine all sauce ingredients in a small saucepan and bring to a boil. Boil for 1 minute then remove and set aside.
2. In a non-stick pan, cook chicken until done then slice into thin strips.
3. Place the chicken in a bowl and pour half of the sauce mixture over it and toss.
4. Divide dough in half and roll out onto 2 baking sheets or pizza stones.
5. Spread the sauce on the dough and sprinkle with a thin layer of mozzarella cheese.
6. Place the chicken on top of the cheese then top with carrots, sprouts, and green onions.
7. Sprinkle with the remaining cheese and bake at 450 degrees for 10-15 minutes.
8. Remove from the oven and garnish with cilantro.