There's a restaurant in our town that has the best garlic wok'd edamame. It's one of those dishes that you automatically order and everyone loves once they try it. Lucky for me, my friend Jaclyn found a similar recipe and with a few tweaks, it tastes almost like our favorite dish.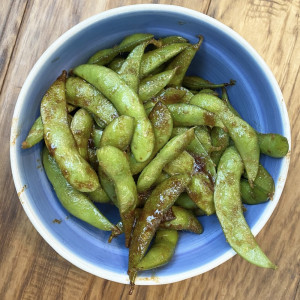 Garlic Wok'd Edamame with Sweet Chili Sauce
Ingredients
1

lb

Frozen or Fresh Edamame

2

tbsp

Soy Sauce

1

tsp

Sweet Chili Sauce

2

tsp

Peanut Oil

1

tsp

Ground Ginger

1

tsp

Fresh Minced Garlic
Instructions
If using frozen edamame, cook 1 minute less than the package suggests. If using fresh edamame, cook in salted boiling water for 4-5 minutes. Do not overcook.

While edamame is cooking, stir soy sauce, chili sauce, and sesame oil in a small bowl and set aside.

In a wok or large skillet, heat the peanut oil over medium heat.

Place the ginger and garlic in the wok and saute for 1 minute or until lightly browned.

Add the edamame to the ginger and garlic and cook for 1-2 minutes.

Pour soy sauce mixture over edamame and saute for an additional 1-2 minutes.

Remove from heat and serve immediately.